Standard Bearer for America's Maritime History:  1963-Present
Since the dawn of civilization, humans have been drawn to the sea, fascinated by its vastness, power and mystery. Through the centuries we have come to realize that in large measure our relationship with the sea defines who we are as a society. Distinguished historian Felipe Fernández-Armesto said it best when he proclaimed: "Maritime history is world history."
In 1963, a small group of maritime enthusiasts in the United States, led by legendary Cape Horn sailor Karl Kortum, came together determined to save the 1899 merchant bark Kaiulani, the last American-built square rigger. Sadly, Kaiulani sank in the Philippines while the society was trying to raise public awareness and funding. The group was undeterred, however, as they had recognized from the outset that what was needed was a national organization that not only would save future Kaiulanis but also would gain public support for preserving the nation's seafaring heritage.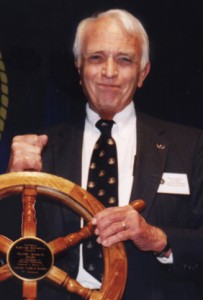 The National Maritime Historical Society emerged from this effort, and in 1970, Peter Stanford, founding president of the South Street Seaport Museum and a leader in the Kailulani effort, was named the society's president.
Under his dynamic leadership, the society was established as a membership organization seeking to educate Americans about our nation's extraordinary maritime accomplishments and their continuing relevance for our national prosperity and cultural vitality.
As a symbolic reminder of NMHS's ship preservation heritage, Kailuani's image appears today on its seal, publications and merchandise.
---