2021 NMHS Invitational Art Gallery Featuring ASMA Artists
Back by popular demand, NMHS is honored to present the 2021 American Society of Marine Artists Invitational Gallery, hosted by acclaimed marine artist Patrick O'Brien. Thanks to his leadership, we are pleased to offer this exclusive opportunity to view original paintings from a featured group of ASMA artists, including selections from Patrick O'Brien along with Lana Ballot, Laura Cooper, Don Demers, Neal Hughes, Richard Loud, Leonard Mizerek, Charles Raskob Robinson, Sergio Roffo, and the new ASMA president, Nick Fox. These works are on sale online, right now through the National Maritime Awards , held virtually on 6 May 2021. We hope you will join us for the show and a chance to meet the artists, who will be joining us live!
The late Peter Stanford, NMHS president emeritus, helped found the American Society of Marine Artists back in 1978 to "recognize, encourage, and promote marine art and maritime history." These artists are an incredibly talented and knowledgeable resource, not just to those who appreciate and collect marine art but to those who value the study of maritime history. These artists bring to life seafaring scenes from every age and successfully capture the spirit and character of sailing and ships, large and small, power and sail, merchant, military, or leisure.
If you see a painting here that you would like to purchase, contact the National Maritime Historical Society via email at vicepresident@seahistory.org or by calling NMHS headquarters at 914 737-7878, ext. 0. Twenty-five percent of the proceeds will benefit the National Maritime Historical Society and the National Coast Guard Museum Association and is tax-deductible. Enjoy this sneak preview and consider making one of them yours!
Lana Ballot
Atlantic Symphony
24 x 36 inches, pastel on board
SOLD * $5,600 * SOLD
Laura Cooper
Henry Ford Passing Thacher Island, 1925
15 x 25 inches, oil on linen
$6,500
Richard Loud
View from the Ferry c. 1927
16 x 27 inches, oil on linen
$7,800
Sergio Roffo
Dory in Sunlit Fog
18 x 30 inches, oil on canvas
$12,500
Sergio Roffo
World's End—Hingham, Massachusetts
10 x 20 inches, oil on mounted canvas
$5,500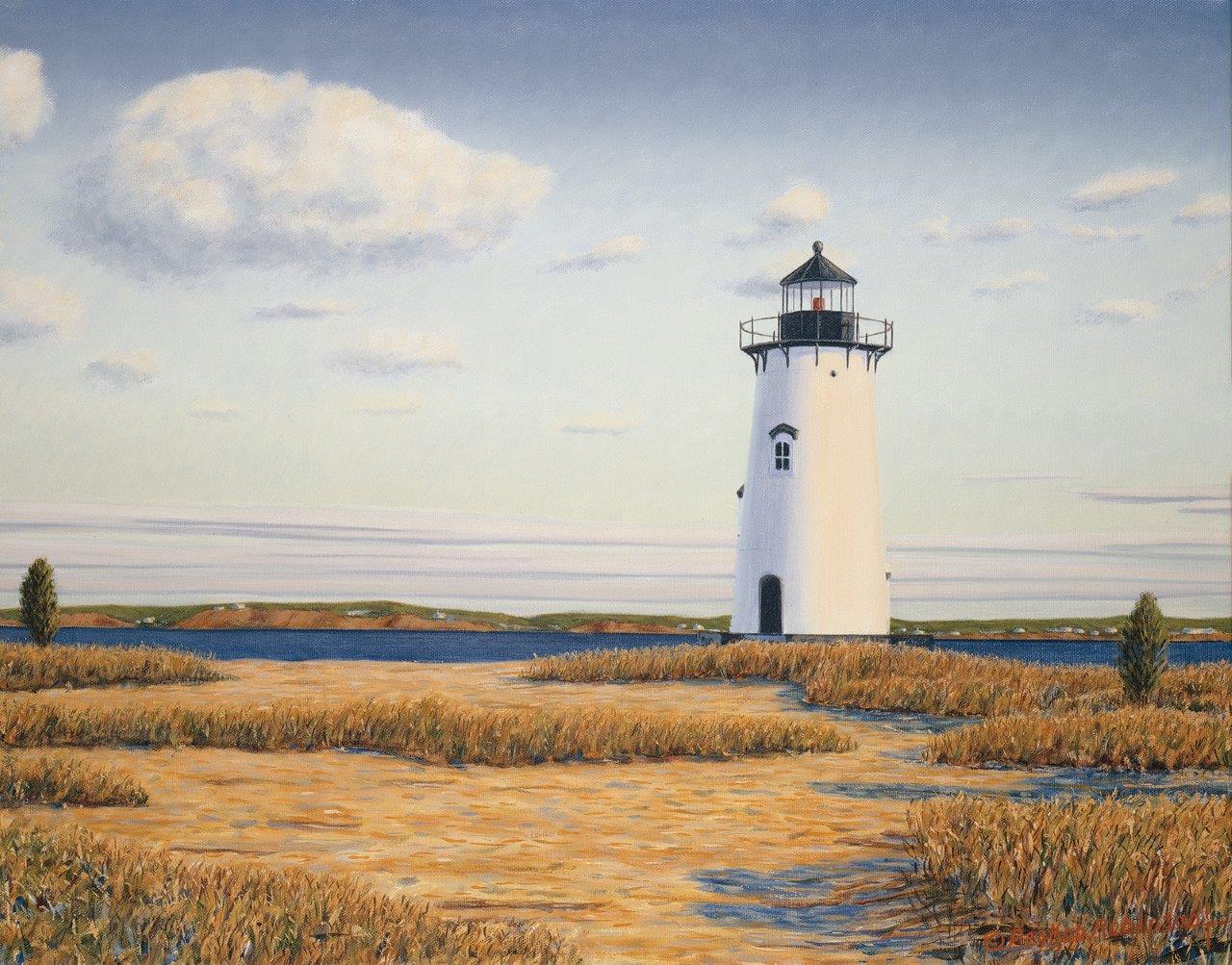 Charles Raskob Robinson
The Edgartown Light in October
18 x 23 inches, oil on canvas
$3,500
Donald Demers
Crossing the Gulf Stream
44 x 58 inches, oil on linen
$40,000
Leonard Mizerek
Misty Rendezvous
24 x 30 inches, oil on canvas
$7,300
Leonard Mizerek
Sailing by Sankaty (Nantucket)
12 x 24 inches, oil on linen
$3,200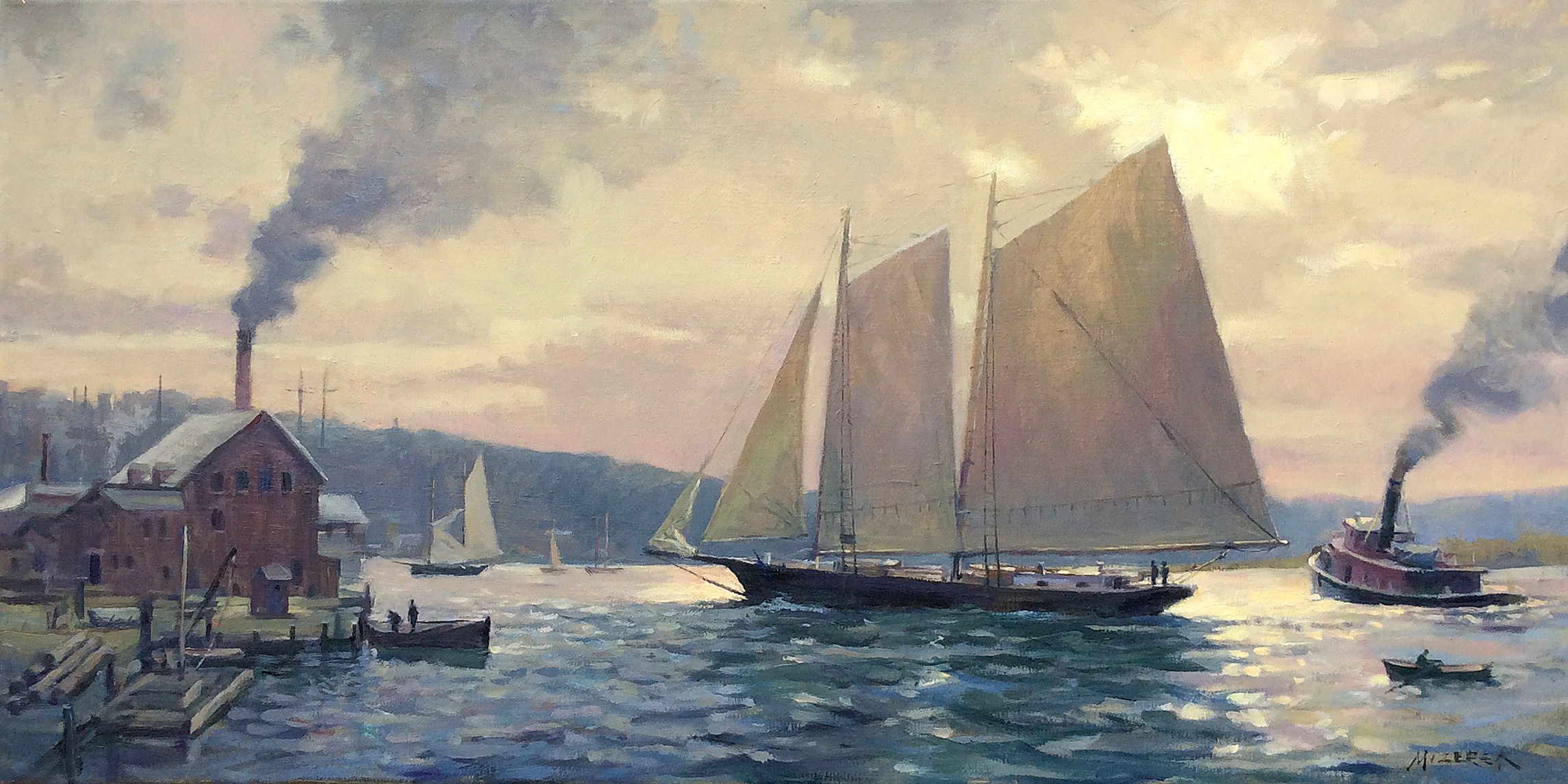 Leonard Mizerek
Harbor Return
12 x 24 inches, oil on linen
$3,200
Leonard Mizerek
Early Morning Departure
12 x 24 inches, oil on linen
$3,200
Patrick O'Brien
A Friendly Race: New York in the 1930s
24×36 inches, Oil on canvas
$14,000
Patrick O'Brien
US Revenue Cutter EAGLE
24 x 36 inches, oil on canvas
$14,000
Patrick O'Brien
A Brisk Wind
24×36 inches, Oil on canvas
$14,000
Patrick O'Brien
New York Sunset, 1895
16 x 20 inches, oil on canvas
SOLD * $4,800 * SOLD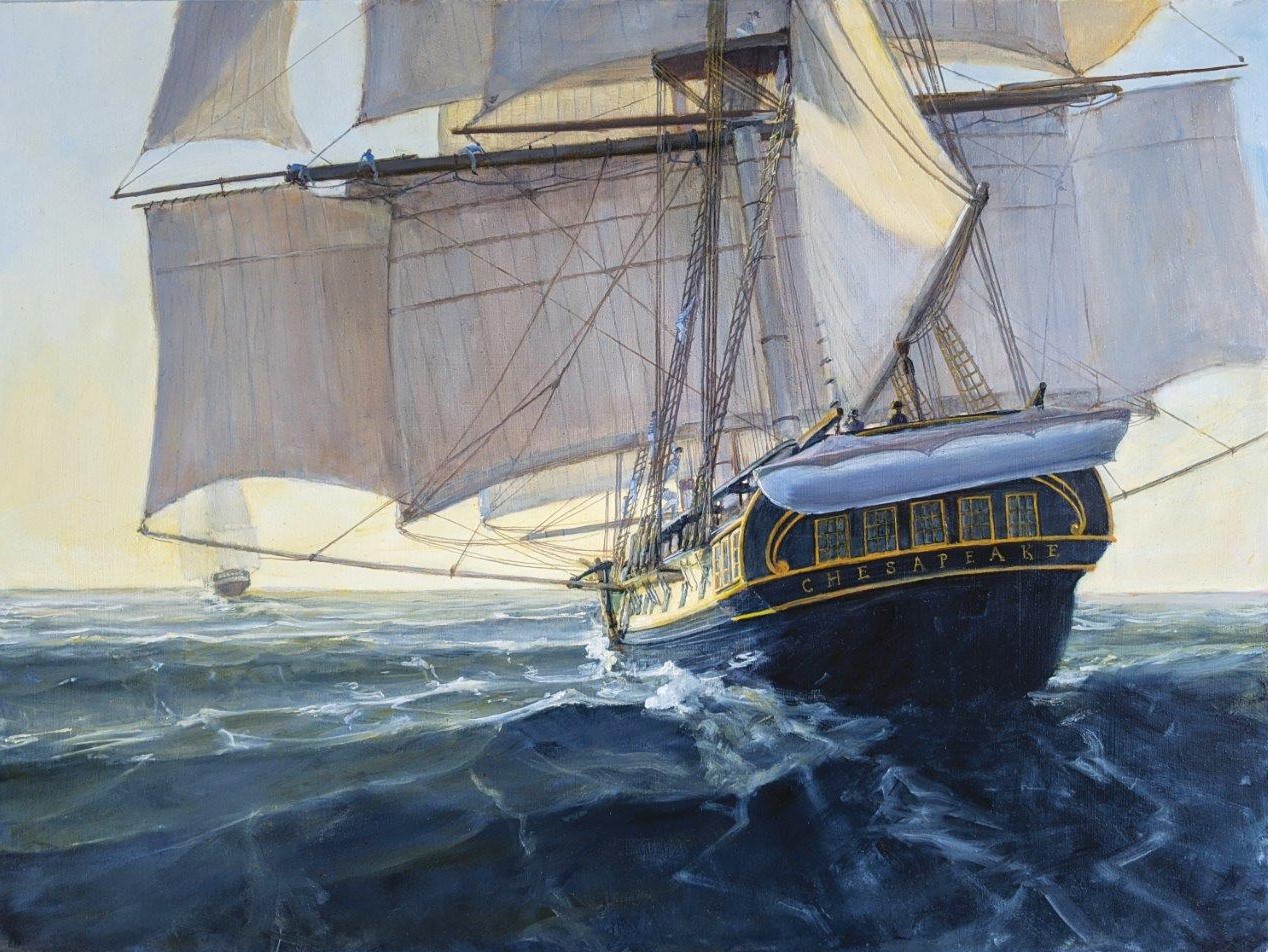 Nicolas Fox
February 5th, 1812
18 x 24 inches, oil on panel
$8,500
Neal Hughes
Up for Repairs
12×20 inches, Oil on linen
$2400
Neal Hughes
Essex Idle
16 x 20 inches, oil on linen
SOLD  * $2,800 *  SOLD
Neal Hughes
Friendship Sloop
11 x 14 inches, oil on linen
SOLD * $1,400 * SOLD