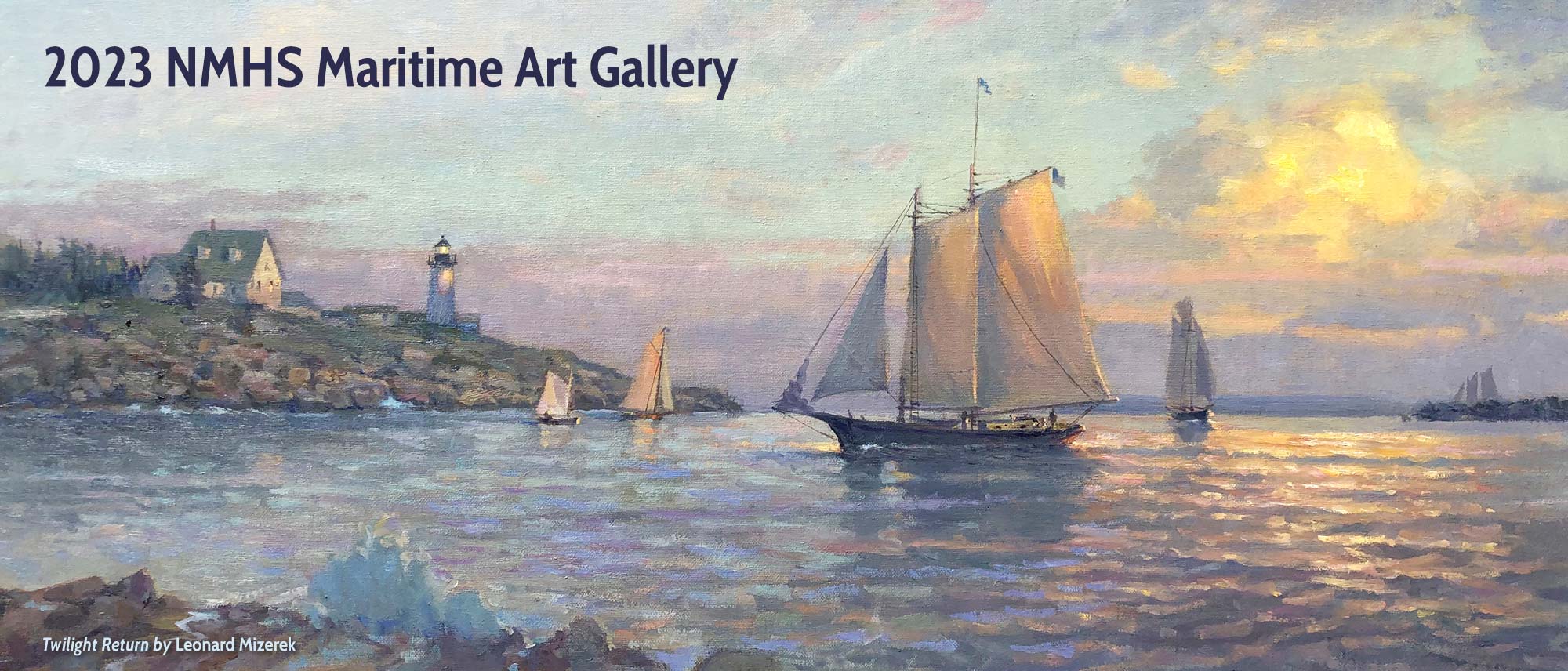 The National Maritime Historical Society presents
The 2023 NMHS Maritime Art Gallery
 an exhibition debuting at the
National Maritime Awards Dinner
and on display through May 2023 at the
 Annapolis Marine Art Gallery
---
The 2023 Maritime Art Gallery was exhibited at the National Press Club in Washington, DC, on 9 May 2023, and continues through the end of May at the Annapolis Marine Art Gallery (110 Dock Street, Annapolis, MD).
Under the leadership of acclaimed marine artist Patrick O'Brien and in conjunction with the American Society of Marine Artists, a select group of artists was invited to participate in this year's exhibition including selections from Patrick O'Brien along with Lana Ballot, Marc Castelli, Laura Cooper, Roger Dale Brown, Donald Demers, Lisa Egeli, Bill Farnsworth, Nicolas Fox, Palden Hamilton, Kathleen Hudson, Neal Hughes, Michael Karas, Leonard Mizerek, and Ed Parker.
Prices include shipping.
Patrick O'Brien • USS United States on Patrol
Oil on Panel • 16 x 20 inches • $4,000 SOLD
---

Patrick O'Brien • USS Constitution Leads the Squadron in the Mediterranean, The First Barbary War
Oil on Panel •16 x 16 inches • $3,600

Patrick O'Brien • The Great Chesapeake Bay Schooner Race
Oil on Panel •11 x 14 inches • $2,400
---
Patrick O'Brien • John Paul Jones at the Battle of Flamborough Head
Oil on Canvas • 24 x 36 inches • $16,000 • SOLD
Neal Hughes • Boatyard Morning
Oil on Linen • 12 x 16 inches • $1,800 • SOLD
Neal Hughes • High and Dry
Oil on Linen • 12 x 16 inches • $1,800
---
Leonard Mizerek • Twilight Return
Oil on Linen Panel • 12 x 24 inches • $3,200 • SOLD
---
Leonard Mizerek • Harbor Traffic
Oil on Linen Panel • 12 x 24 inches • $3,200 • SOLD
---
Michael B. Karas• Rolling In
Oil • 11 x 14 inches • $3,700
---
Laura Cooper • Merlin, 1892, Goelet Cup, Newport, RI
Oil  on Canvas • 15 x 23 inches •  $7,800
---
Donald Demers • Standing Alone
Oil  • 9 x 12 inches • $3,500 • SOLD
---
Bill Farnsworth • Light Show
Oil on Linen • 14 x 18 inches • $3,600
---
Marc Castelli • Bringing the Wind/U.S.N.A. Kennedy Cup 2016
Watercolor on Paper • 22 x 30 inches • $6,850
(Courtesy of the Carla Massoni Gallery, Chestertown, MD)
---
Kathleen Hudson • Blue Surf
Oil on Linen • 20 x 20 inches • $2,900
---
Peter Egeli• Skipjacks Passing Licks
Watercolor • 11 x 15 inches • $3,700
---
Lisa Egeli • Chesapeake Vestige
Oil • 12 x 24 inches • $3,600
---
Lisa Egeli • Momentum, Hooper's Island
Oil • 22 x 28 inches • $7,000
Nicolas Fox • Trafalgar Dawn
Oil on Panel • 13 x 15 inches • $1,400
---
Ed Parker • Waiting for the Tide 1877
Oil on Canvas • 24 x 24 inches • $6,500
---
Roger Dale Brown • Stories I Can Tell
Oil on Linen • 20 x 24 inches • $5,250
---
Palden Hamilton • Arching
Oil on Canvas • 18 x 24 inches • $2,200
---
Lana Ballot • Maine Moment
Pastel on Paper • 12 x 18 inches • $2,700