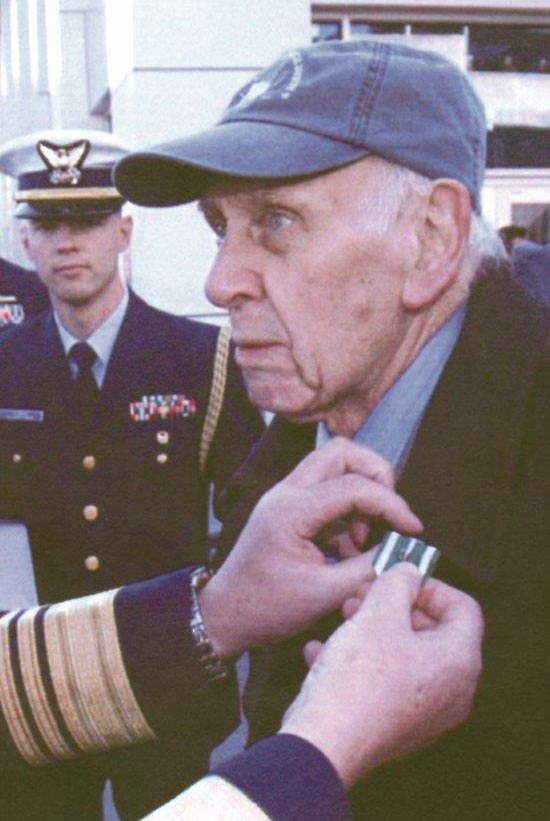 Volunteer Appreciation Award
The Volunteer Appreciation Award has been presented since 1996 in grateful recognition of the enduring dedication of outstanding volunteers of the National Maritime Historical Society.
Seymour Wittek was a long-time volunteer at NMHS who came to work at headquarters on a regular basis. His enthusiasm, willingness to tackle chores, and ability to reach out to other members made him an invaluable asset. He was a great storyteller.
Seymour was a World War II hero. In 1943, he was a Coast Guardsman working from the Jersey City, New Jersey, barracks. On 24 April, a fire erupted beneath the engine room of an old Panamanian freighter, SS El Estero, where it was moored in Bayonne. The El Estero was loaded with 1,365 tons of ordnance and moored to a pier in a metropolitan area, which stored even more explosives. The potential for catastrophic damage was real and immediate. Seymour Wittek was one of the Coast Guardsmen back at the barracks when they got the call for volunteers to help fight the fire. He and his mates all rushed to help. The El Estero fire was eventually put out (by flooding the ship and sinking her out in the harbor), and those that put themselves in harm's way to prevent what would have been one of the worst disasters in New York history demonstrated exceptional bravery. Recently, NMHS worked with Seymour to produce an illustrated talk about the El Estero fire and the heroic role he played in extinguishing it. He gave his first talk to the Charles Point Council and then went on to present it to many groups. The story also appeared in the Spring 2009 issue of Sea History 126, written by William Thiesen, Atlantic Area Historian for the USCG. On Veteran's Day, 2008, USCG Vice Admiral Robert J. Papp presented Seymour Wittek with the Coast Guard Commendation Medal aboard USS Intrepid in New York City. Seymour wore his NMHS cap as a visible sign of the organization he valued most.
Categories: US Coast Guard, Volunteer