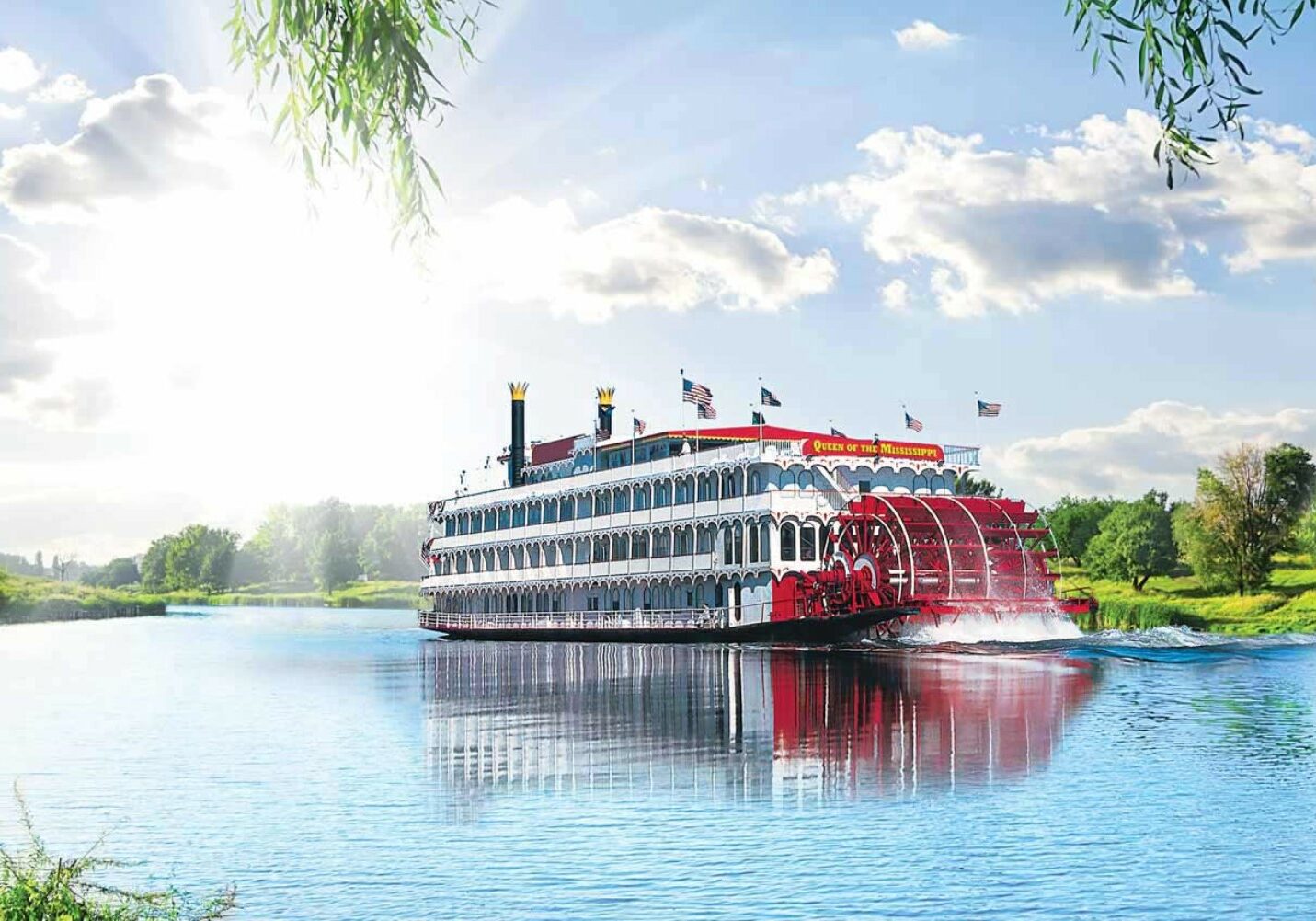 NMHS Cruise on the Mississippi River – 12-19 March 2022
Cruise Brochure >> Check Rates & Availability >>
---
New Orleans, Louisiana to Memphis, Tennessee
Support the National Maritime Historical Society and join NMHS leadership in 2022 for a unique riverboat adventure along the legendary Mississippi—the river Mark Twain once wrote "has a new story to tell every day."
We invite you to an authentic paddlewheeler experience with all the comforts of home aboard the intimate 84-room American Cruise Lines riverboat American Heritage (formerly Queen of the Mississippi) for this all-inclusive, 8-day/7-night historic cruise embarking from New Orleans, Louisiana 12 March 2022 and disembarking in Memphis, Tennessee on 19 March. Along with well-appointed staterooms, modern amenities, breathtaking scenery, fabulous dining, complimentary drinks and lively entertainment, enjoy dynamic presentations by speakers onboard and daily included excursions connecting you to the region's rich culture and history.
Spend your complimentary pre-cruise night at the luxurious InterContinental Hotel in vibrant New Orleans, where art and culture abound. Explore the 19th-century antebellum sugar cane homestead Oak Alley Plantation. Take in the local shops and museums of quaint and cozy southern town charms like historic Baton Rouge and Natchez. Explore why the Mississippi River was so important during the Civil War as expert guides take you on a tour of the National Military Park, which preserves the site of the Battle of Vicksburg, waged from 29 March to 4 July 1863. Conclude your Mississippi River voyage in Memphis, home to Blues, BBQ, Beale Street and Elvis Presley, and enjoy tours of Sun Studios, Graceland mansion, the Rock 'n' Soul Museum and National Civil Rights Museum.
Reserve Your Mississippi River Cruise Today
Through a generous corporate giving agreement with our travel partner Pollin Group, LLC, we are able to offer this American Cruise Lines Mississippi River cruise at deeply discounted rates, and 100 percent of the proceeds of all cruise sales will benefit the National Maritime Historical Society.
Click here to inquire about current availability and pricing, or contact Mary Davis, Sr. Director of Client and Management Services at Pollin Group, by calling (443) 878-4393 or emailing mdavis@pollingroup.com.
Cruise with Confidence
All passengers will be required to provide proof of vaccination (booster shots are not required) and take a COVID test at the pre-cruise hotel on 11 March 2022, the day before embarkation. Guests must test negative to be able to board the ship on 12 March. Those unable to sail due to a positive COVID test will have their cruise fare refunded but will be responsible for their lodging and transportation/airfare to return home or another destination.
We look forward to seeing you on the Mississippi!