The National Maritime Historical Society actively supports film production on a broad range of maritime related topics, including biographical tribute videos highlighting the work of outstanding individuals and organizations involved in the preservation of our maritime heritage.
Produced by NMHS Vice-Chairman Richardo R. Lopes/Voyage Digital Media and camerman/editor Alessandro Lopes, the videos are a highlight of the Society's Annual Awards and Maritime Awards Dinners, each year mesmerizing audiences and bringing the histories of the awardees to life.

Documentaries & Film Series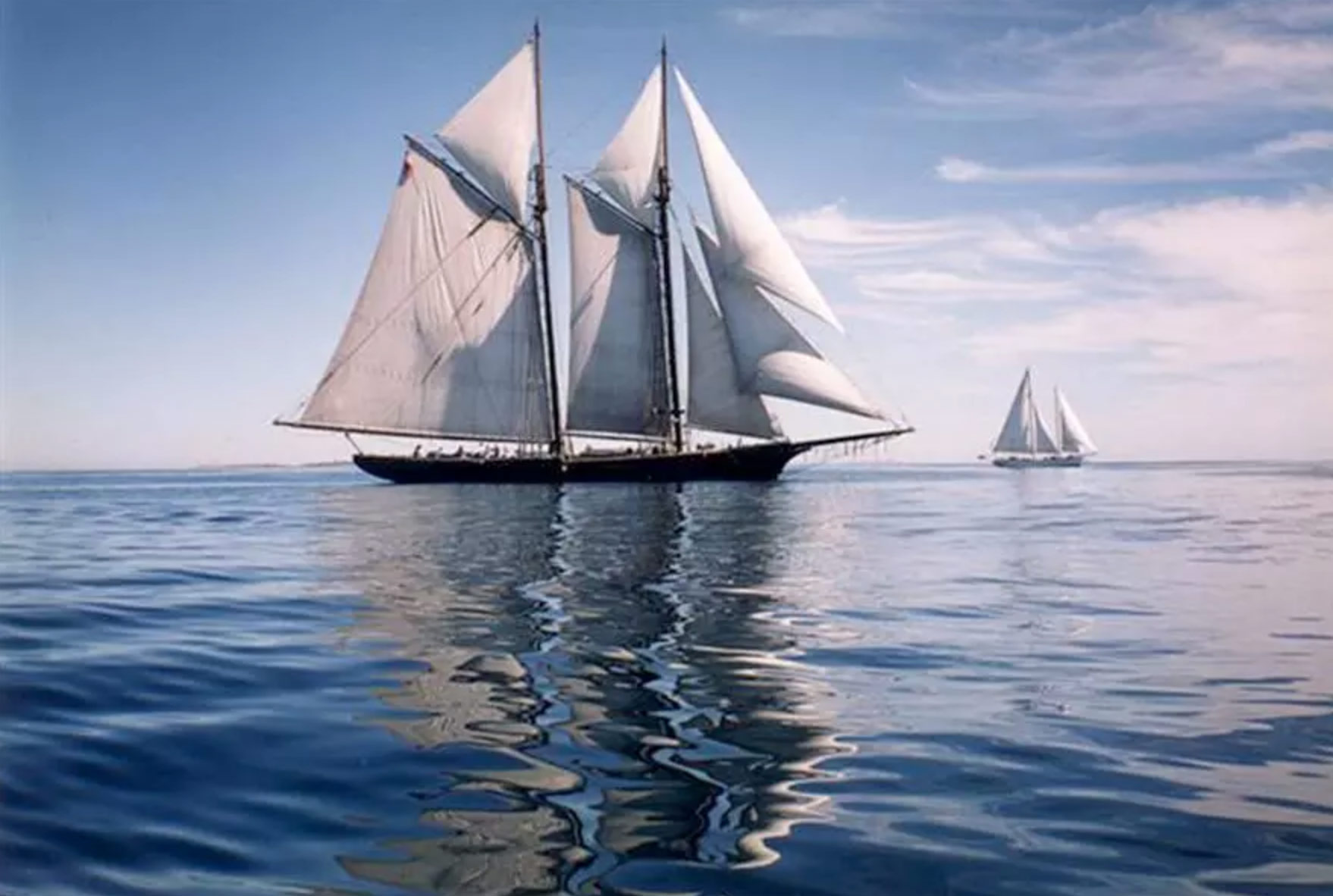 The National Maritime Historical Society has also partnered with Voyage Digital Media to sponsor documentaries highlighting our shared maritime heritage, and the Society is pleased to report that it has received funding of $275,000 from Harold F. (Gerry) and Marguerite Lenfest and the H.F. Lenfest Group for its documentary series Sails Over Ice and Seas: The Life and Times of the Schooner Ernestina-Morrissey.
We thank Mr. and Mrs. Lenfest for this most generous gift.
Sails Over Ice and Seas: Ernestina-Morrissey
Watch the trailer >>
The National Maritime Historical Society has partnered with Voyage Digital Media to produce an epic documentary series on the famed schooner Ernestina-Morrissey.  Now a National Historic Landmark, she joined thousands of her sister ships as she was launched from the shores of Essex, Massachusetts in 1894.
The documentary's four one-hour episodes will each focus on a distinct era of her 126 year history – from her start as she fished and carried cargo out of Gloucester, Nova Scotia and Newfoundland (1894–1925); explored the Arctic regions with Captain Bob Bartlett (1926–1945); traversed the Atlantic as a Cape Verde Packet trader bringing immigrants and cargo to and from the shores of America (1948–1968); and advanced educational programming and sail training for people of all ages (1982–present).
In her wake, Ernestina-Morrissey has left a diverse and indelible mark on America's history and her future.  She is America's story.
Flight 1549: Miracles on the Hudson
Flight 1549: Miracles on the Hudson is a feature length documentary produced by Voyage Digital Media on that bitter cold day in January 2009 when a US Airways commuter Airbus made crippling impact with a flock of geese, forcing Captain "Sully" Sullenberger and co-pilot Jeff Skiles to make a ditched landing in the freezing waters of the Hudson River.  Due in part to the Port of New York's rebirth as a thriving maritime hub in recent years, there were commuter and working boats nearby to rush to the rescue of 143 passengers and crew members, working in tandem with the Coast Guard and New York and New Jersey's first responders. Despite the frigid temperatures, strong currents and the alarming rate at which the plane was sinking, not a single life was lost.
A fascinating subject as evidenced by its ongoing media coverage as well as the 2016 release of the Oscar nominated film Sully starring Tom Hanks, this film focuses less on the captain and more on the riveting firsthand accounts of that life-changing experience by the plane's passengers and their police, firefighter, EMT and Coast Guard rescuers, providing a powerful story of New York and a unique insight into human triumph in the face of certain disaster.
The film examines the event's historical context as well, including New York City's history as a key port, its decline in the wake of air travel and shipments by plane, and the resurgence of the port in recent years.