Custodial Organization:
Project Liberty Ship
Date or Era:
7 September 1942
Hull Material:
Steel
Type:
Liberty Ship
2020 South Clinton Street
Baltimore, MD 21224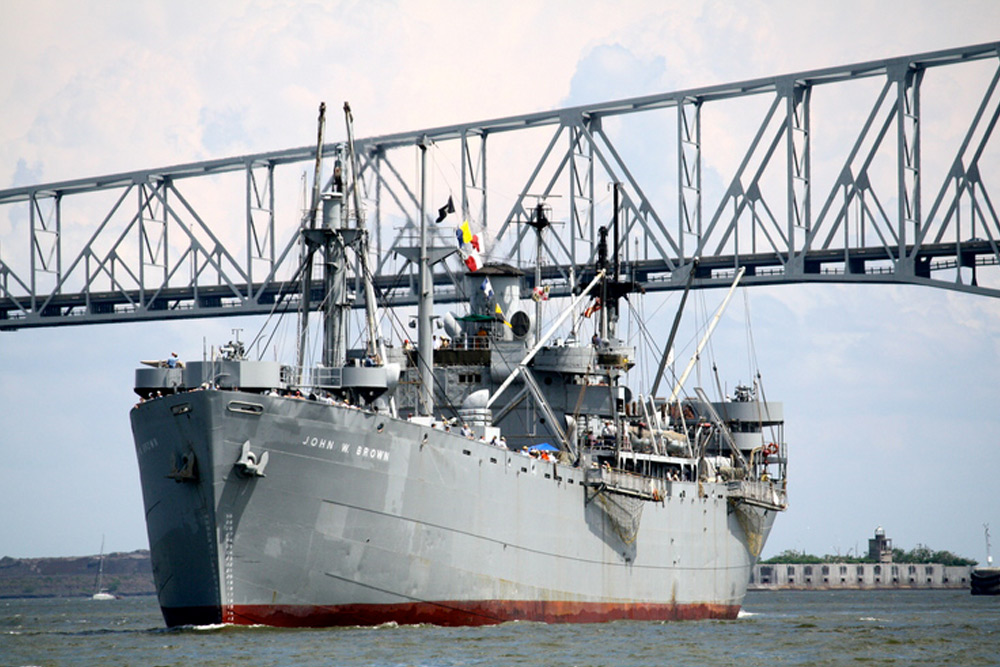 John W. Brown was built at the Bethlehem-Fairfield shipyard in Baltimore, MD, on 7 September 1942, one of six Liberty ships built that day. More than 2,700 Liberty ships were built during World War II; only two remaining ships are in operating condition today. Her maiden voyage was to the Persian Gulf, carrying military equipment for Russia. She sailed a total of 13 voyages during the war, carrying supplies, equipment and troops to where they were needed.
Following the war, she served the city of New York as a floating maritime school, preparing students for careers in the merchant marine. The school was closed in 1982, and the Brown was transferred to the James River Reserve Fleet in July 1983. During this time, NMHS contributed to the formation of Project Liberty Ship, which hoped to preserve one of the Libertys as a museum ship to commemorate the contributions of the Liberty ships to the war effort.
The organization was given ownership of the Brown, and applied to have her added to the National Register of Historic Places, and after years of searching and planning, secured a berth for the vessel in Baltimore, where she is located today. John W. Brown conducts 6-hour Living History Cruises about four times a year.