Looking for an Organization to Take On Historic Ferry
T
he custodian of the ferryboat Binghamton is searching for someone to take possession of the vessel. One of six steam-powered screw-propeller, double-ended ferryboats built by the Newport News Shipbuilding and Dry Dock for the Hoboken Ferryboat Company in 1905, Binghamton served from 1905–1967 between Hoboken and Manhattan before being sold and converted into a restaurant in Edgewater, NJ, in 1975. The 500-ton steam boilers were removed and 640 tons of concrete were poured into the hull as ballast. She was placed on the National Register of Historic Places in 1982. Damage from Hurricane Sandy has left Binghamton partially submerged, and her present condition is described as "poor."
Only qualified interested parties that which can demonstrate the ability to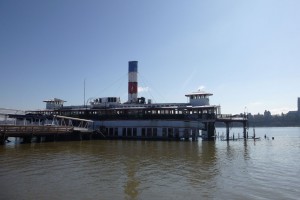 undertake the removal and preservation will be considered.
The complete Public Notice can be found here; it will expire after 90 days, on June 29th, 2016. Interested parties must by that date enter into a written agreement for the removal of the vessel from the site for the purposes of preservation.
Interested parties should email FerryboatBinghamton@gmail.com to receive more information.