When Rich King was growing up outside Philadelphia, he thought he might become a political cartoonist. He always loved to draw cartoons and write, and he has both artists and authors in his immediate family, so it seemed like a calling from a very young age. For a guy who has spent most of his adult life studying and teaching about the oceanic world, as well as sailing across the oceans for tens of thousands of miles, as a kid, he didn't have much exposure to the ocean outside of a few day trips to the Jersey shore.
That all changed after college (he majored in psychology). Looking for a job as an English teacher, he went to a conference and made a fortuitous stop at a table where people were promoting a high school semester-at-sea program.
Soon, Rich was on the high seas and discovering the ocean in a way he had never known before. After eleven months crisscrossing the Pacific, he was hooked. Rich has been involved with sail training education and maritime studies ever since. He also went back to school, earning a PhD from the University of St. Andrews, focusing on writing and more study of literature of the sea.
Rich has had all sorts of jobs in and around the water, from working on a commercial lobster boat to crewing on sailing ships, to teaching college students maritime history and literature of the sea. These days he calls himself mostly an author and illustrator. He works most of the time from his home office, where he has settled into a regular routine of conducting research, reading, writing, and drawing. Regular readers of Sea History's Animals in Sea History feature recognize Rich as the creator of that content—both the written story and the fantastic illustrations. He has written six books and illustrated two children's books; he mainly focuses his work on marine environmental history.
Rich still goes to sea. In addition to teaching college courses (on land) on maritime history and literature, he also teaches for a semester-at-sea program for the Sea Education Association (SEA). This summer, he'll be sailing from Hawai'i to Fiji aboard SEA's sailing research vessel Robert C. Seamans.
Going to sea always gives me plenty of ideas for new projects. I always learn something new, and it gives me an opportunity to share what I've learned with the ship's students and crewmembers. When we see a sperm whale or a mahi-mahi in the water or a frigatebird land aloft on the ship's yard, or we collect a pyrosome in our plankton net, I turn to my Animals in Sea History column to offer a more historical perspective on what we are seeing and what those who experienced similar observations from the past had to say about it.
Rich spent most of his life on the East Coast, but after a move to California with his family a couple years ago, he is back sailing in the Pacific a lot. When he isn't in the library researching a topic or teaching out at sea, he gets most of his work done at home.
I usually try to do my writing in the morning, when my attention span is longer. I try to turn off the internet for an hour or two to reduce distractions. I often save drawing for the afternoon, when I can spread out and listen to music—or podcasts about the New England Patriots. One of the advantages of working for myself is that I can schedule my days as I see fit. I'm learning to surf, so I often take a break in the middle of the day to go down to the beach, depending on the tide and ocean conditions. Or I'll go for a run or walk our dog. When I am researching for a new book or article, I often interview scientists and other experts over Zoom or visit them out in the field.
Rich has a new book out based on the animals he has written about and illustrated for the last 17 years for Sea History called Ocean Bestiary: Meeting Marine Life from Abalone to Orca to Zooplankton. He'll be out at sea by the time you read this, but he'll be back at his drafting table when he gets back, prepping his next article for Sea History.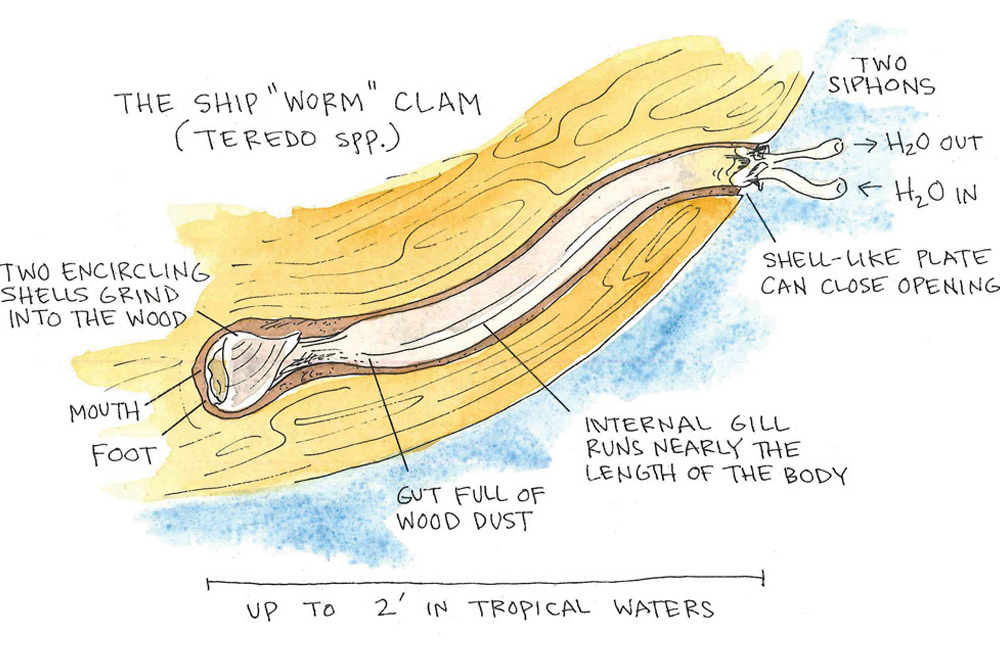 Damage to wood by the shipworm clam was often extensive enough to sink a ship!
As a tiny larva floating in the ocean, the clam lands on the hull or piling of a ship and immediately begins to grind into the surface of the wood with its shells.
How did Christopher Columbus and other mariners protect their ships from the shipworm?