Cultural Resource Manager, Russ Green
Russ Green is the Deputy Superintendent and Research Coordinator at the Thunder Bay National Marine Sanctuary in Alpena, Michigan. The United States has fourteen National Marine Sanctuaries, all of which are unique and get special protection under the law.
Why do these places need protecting? Each sanctuary possesses something very precious—some are home to fragile coral reefs or endangered animal species. Others have cultural resources that need to be protected and studied, such as the Thunder Bay National Marine Sanctuary in Lake Huron, where Russ works. This region in the Great Lakes is known for its hundreds of well-preserved shipwrecks, which, combined with the archaeological remains of piers and lighthouses and even materials from historic and pre-historic Native Americans, help tell the story of Great Lakes history.
The sanctuary offices in Thunder Bay include a lab where artifacts from shipwrecks are conserved, an exhibition hall and educational center where people come to learn about what's out in Lake Huron (without getting wet!), and offices where the staff can do research and plan activities and field work. Russ's job is to help preserve and manage the cultural resources in Lake Huron through many types of activities, making him a sort of "jack of all trades." His duties range from applying for research grants, developing partnerships with world-class scientists and other researchers, and organizing teams of maritime archaeologists who dive in the lake to locate and document shipwrecks. Russ spends a lot of time under water, diving and documenting shipwrecks as part of his regular work.
"Growing up in coastal Massachusetts and having an interest in history probably started me on this path. In my early twenties I did some commercial fishing, and, even though I didn't realize it at the time, that was maritime heritage in the making. Where it would lead was anyone's guess at the time—I was just fishing. I didn't really have a plan to make it a career, but I realize now that the experience of working on the water was more fundamental than just fishing—it gave me a powerful connection to the sea.
Every experience you have may not have an obvious tie to a career path, but you just have to appreciate the connections they could have and make the most of them. It's akin to reading books. I've read books I didn't like, but I still learned something from them. A friend recently gave me a science fiction book, something I normally wouldn't choose to read. But amidst the lasers and robots, I found a social commentary that struck a chord with me.
The best part of my job as a cultural resource manager is the wide variety of things I get to do every day: diving, exploring shipwrecks, talking to the public, helping create exhibits at the visitors' center and contributing to our website. Even the more office-bound tasks, such as writing the management plan that guides our sanctuary's work or researching the history of some of the shipwrecks, all make my job interesting. They also give me valuable perspective and keep me asking important questions: Why is history important? How can people best benefit from the work we do? and How can we do it better? Asking these questions helps keep our sanctuary team focused on making good decisions about how to best protect shipwreck sites and at the same time promote access to these unique and irreplaceable sites. At this point in my career I have many more questions than answers, which probably means that I have a lot more work to do!"
— Russell T. Green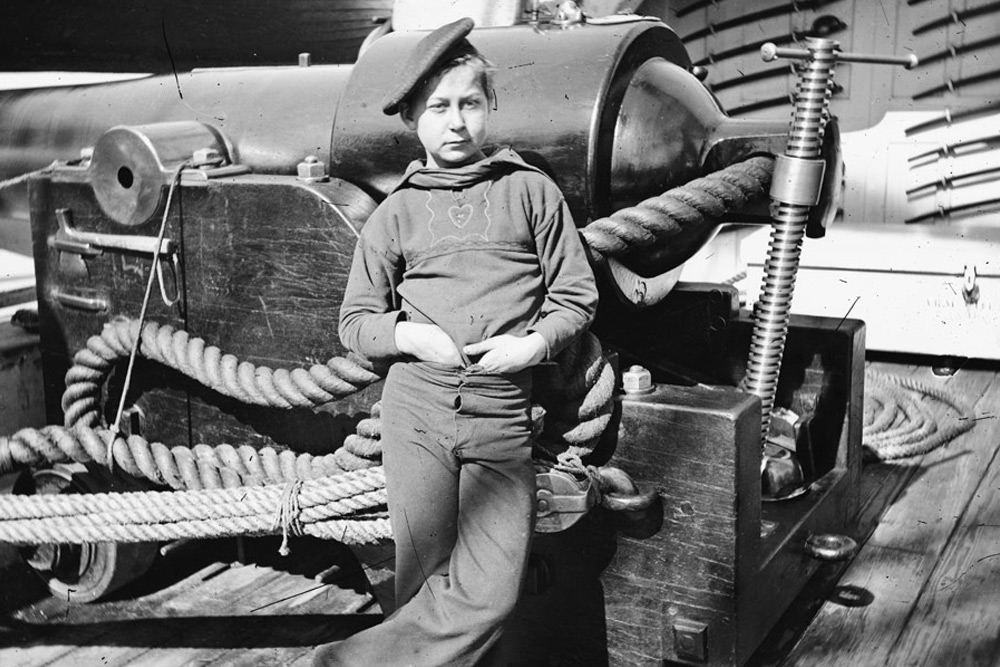 The Age of Sail was said to be the domain of "wooden ships and iron men," but sailing ships also had boys on their official crew lists.
Today, you have to be 14 years old before you can get a job in most states in the US, but in the Age of Sail both merchant ships and navy vessels signed on boys as young as seven years old as regular members of the crew.
What were these kids doing on board sailing ships?