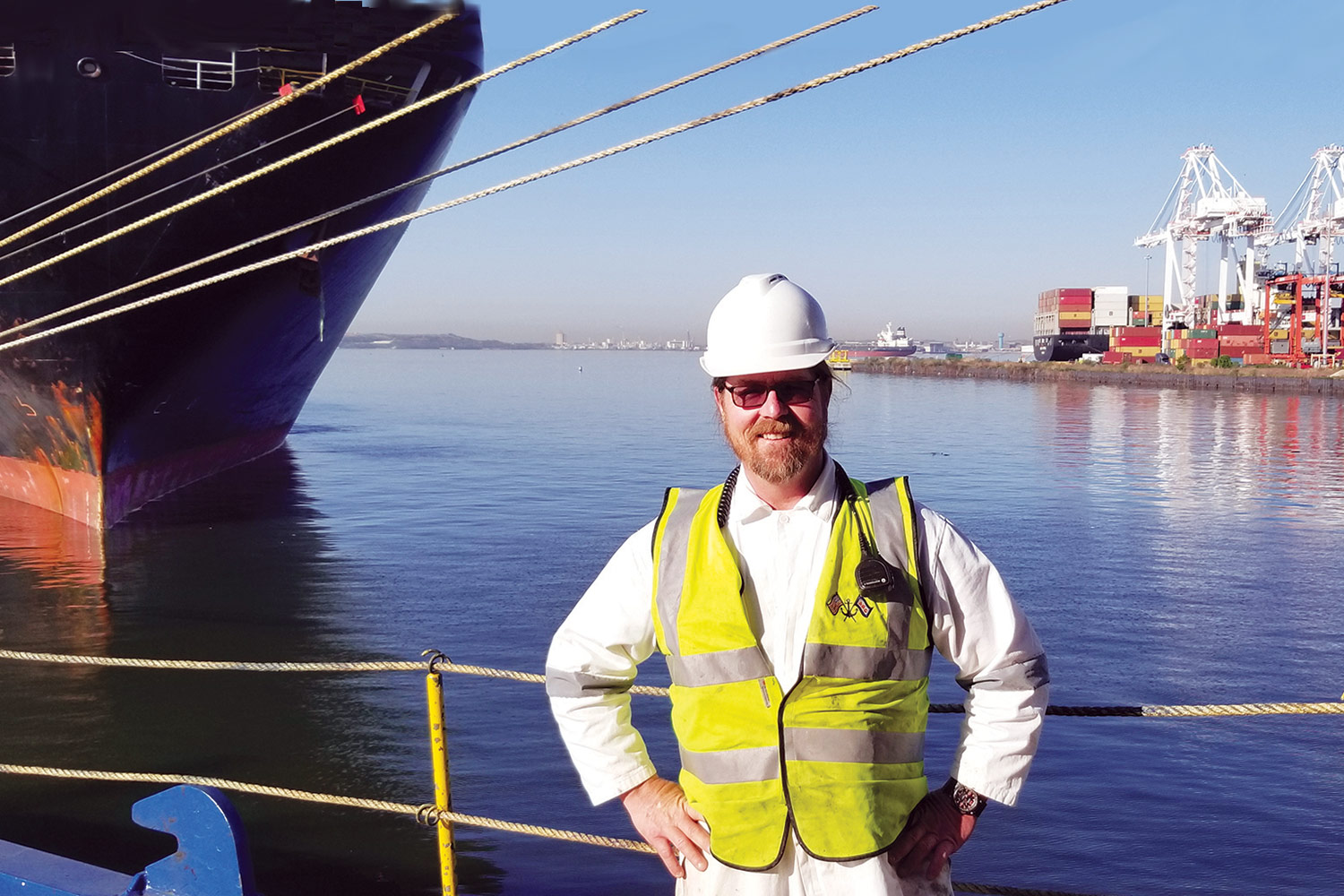 Deck Officer, US Merchant Marine
Wes Heerssen is a deck officer in the United States Merchant Marine. He currently serves aboard a transAtlantic commercial roll-on/roll-off car carrier, or "Ro-Ro." Ro-Ros are huge cargo ships that carry wheeled vehicles of all kinds that can be loaded via ramps, as opposed to shipping containers that have to be loaded with a crane. Both the military and commercial shipping companies own and operate Ro-Ros.
I work on ships for about six months per year. I stand the 8-to-12 watch at sea, which means I am on duty from 8am to noon navigating the vessel, and am back on watch on the ship's bridge from 8 pm until midnight. I also serve as the ship's safety officer and medical officer. During the afternoons, I spend most of my time conducting monthly safety inspections of the vessel's lifesaving and firefighting equipment, watertight doors, etc. Occasionally, I'll spend the afternoon working in the ship's hospital making sure it's ready for use. It is my responsibility to treat crewmembers' wounds or illnesses, and carefully document everything, just in case I need to call a doctor ashore for advice. Accurate record keeping is a big part of my job.
In port, Wes's duties are a little different because the ship doesn't need a navigation watch. Instead, he stands cargo watch from 6am to noon, and again from 6pm to midnight. He keeps track of all the vehicles that are moved on and off, and, importantly, makes sure the ship remains level while loading and discharging cargo by shifting ballast water. Once all the vehicles are onboard, he makes sure that all the cargo is properly lashed for sea before departure.
Wes grew up on St. Croix, in the US Virgin Islands, and has been on the water his whole life.
Growing up on an island in the Caribbean, I learned to row and sail small boats and yachts, to scuba dive, and to love travel and adventure. It wasn't until I left home at age 18 to work on tall ships that I knew I wanted to sail professionally. I spent 25 years working in sailing vessels, working my way up from deckhand to captain. Those years were full of adventure, sailing to ports all over the world. I knew I wanted to one day work on big commercial oceangoing ships, but I was having so much fun on sailing ships that it took me a while to decide to make the shift.
A lot of deck officers start their training at maritime academies where they can graduate with both a college degree and license to serve as a deck officer or ship's engineer. Wes, however, is what they call a "hawsepiper," someone who starts at the bottom and spends many years working up through the ranks. "A captain is fortunate to have both hawsepipers AND academy graduates comprising his officers, as both career paths bring different strengths to the job."
Wes says that the most important qualification he has is a willing attitude. In addition to on-the-job training at sea, he has kept up with formal training, taking USCG-approved classes in marine firefighting, medical training, navigation and radar certification, plus a few vessel-handling simulator courses. He estimates his formal training exceeds 2,000 hours.
To qualify to sit for your merchant marine license, you need sea time—documented working days underway. By the time a maritime professional is a senior officer or captain, he or she has put in years underway. "At sea, you can't fake knowledge and experience, so you need to approach the job and the lifestyle with humility and demonstrate a genuine interest in learning." Spending a lot of time out at sea in a confined space with a small group of people also requires an agreeable attitude: sailors refer to this as being a good shipmate. "The sea is not a forgiving place for fools: be smart, pay attention to your surroundings, and don't sit on the rails! After pulling your weight, you also need to look after the needs of others by being courteous and respectful. It is essential to learn when to speak and when to listen, no matter your rank. The good news is that nearly every mariner is willing to 'show you the ropes,' if you are courteous enough to appear worthy of their effort."

United States Merchant Marine
The United States Merchant Marine is a civilian maritime service made up of professional mariners and the vessels they operate.
Merchant ships carry cargoes (container ships and tankers, for example) and passengers (ferries, cruise ships, and excursion vessels) in both inland waters and across the oceans. Although merchant mariners are civilians—meaning, not in the armed services—they sometimes work in support of the military or aboard ships owned by the federal government. In wartime, merchant mariners have been called in to service to transport troops and military supplies to war zones in other parts of the world.
In 2018, more than 90% of the world's goods are carried by ships, but few people think about that when they are shopping for everyday goods like groceries, clothing, appliances and cars, as well as gas and heating oil. At any one time right now, there are more than 20 million shipping containers crossing the oceans and pulling into ports, such as Houston, Newark, Norfolk, Long Beach, Tampa, and New Orleans.
There are all kinds of ships in the US Merchant Marine fleet. Most are purpose-built for a specific job. Wes Heerssen, we learned, works mostly aboard Ro-Ros. These are enormous ships that look like giant boxes, designed to fit hundreds of cars in their cargo holds. The world's largest Ro-Ro is the MV Celine, which was launched last year from a shipyard in South Korea for a shipping company based in Luxembourg. MV Celine is 768 feet long by 125 feet wide and will be put into service between Ireland, England, Belgium and the Netherlands.
Ro-Ros are not the biggest ships plying the seas in the 21st century; some passenger cruise ships and tankers are even bigger. The fleet of vessels serving in the merchant marine is as varied as the cargoes they carry and the people who operate them. There are cargo ships (bulk cargo, container, refrigerated cargo, multi-purpose), tankers (oil, chemical, gas), passenger vessels (ferries, cruise ships, water taxis, and combination passenger-cargo ships). These are just a few examples.
A maritime career can be an exciting and well-paid profession. Depending on what type of ship you work on, you may sail the world's oceans, or you may work in local waters and be able to go home to your family each night. The International Maritime Organization recently announced that the industry is facing a shortage of trained and licensed maritime professionals, and the maritime academies confirm this, reporting high employment rates for their students as soon as they graduate.
To become a ship's officer, engineer, or captain, you can do what Wes did and "come up through the hawsepipe," or you can attend a maritime academy and start out working as a licensed officer or engineer after you graduate. There are seven publicly funded maritime academies in the United States. The US Merchant Marine Academy at Kings Point in Long Island, New York, is a federal service academy; the others are state schools: California Maritime Academy, Maine Maritime Academy, Massachusetts Maritime Academy, Great Lakes Maritime Academy, Texas A & M Maritime Academy, and the State University of New York (SUNY) Maritime College.
If you are interested in learning more about them, visit the schools' websites: www.usmma.edu (Kings Point); www.csum.edu (California); www.mainemaritime.edu (Maine); www.maritime.edu (Massachusetts); www.nmc.edu/maritime/ (Great Lakes); www.tamug.edu/corps/ (Texas); and www.sunymaritime.edu (New York).
Marine animals consume plastic when they confuse it for food.
Small plastics and floating objects often look like food to aquatic animals and sea birds. When they eat plastic, it often gets stuck in their digestive system, making them feel full and unable to eat proper food.
What can YOU do?
Learn more at Getting Rid of Marine Debris