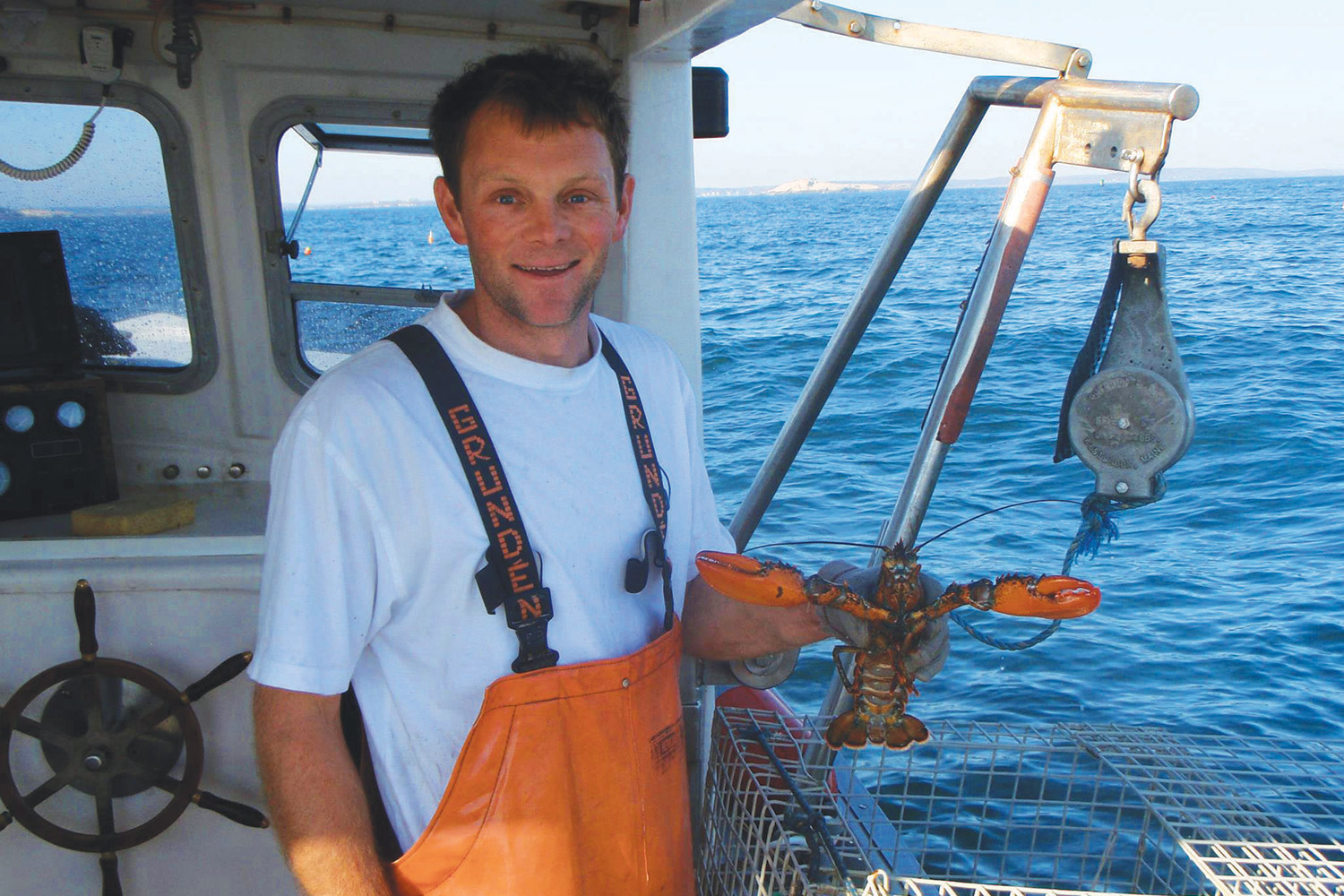 Lobsterman Eben Wilson starts his days early—as in, the middle-of-the-night early. By 4:00am, he's casting off the docklines aboard the Elise A., his 40-foot wooden lobster boat named for his little daughter, and heading out to offshore waters, or, on days he stays closer to shore, between Pemaquid Point and Boothbay Harbor, Maine. He takes with him a helper called a "stern man," and over the course of an 8-to-15 hour day, they will haul 300–400 lobster traps. State law restricts the days he can fish to about 3 or 4 days a week. When he isn't hauling traps, he is repairing them ashore or maintaining his boat so that it is safe and ready to go the next time he goes out.
Government regulations also dictate the size of lobsters that can be kept to sell vs. those that must be put back in the ocean. Egg-bearing females are also returned to the water to help sustain the lobster population, but not before he snips a notch in her tail flipper as a way to identify her as a breeding female.
The lobster traps (also called lobster pots) are set from the deck of the Elise A. and dropped to the seafloor, anywhere from shallow waters to more than 1,000 feet deep. The traps are tethered to a buoy on the surface, and Eben tracks his buoys on a GPS plotter so that he can find them again, even in the thick of fog or through choppy seas. When he pulls his boat up to the buoy, he pulls the buoy onboard with a winch and then hauls the line and the trap up on the deck. His stern man picks through the lobsters, measuring each one and keeping only the legal-size ones (or non-egg bearing females), re-baits the trap—usually with salted herring, and resets it.
Eben isn't very old, but he's been lobstering a long time. He grew up on the coast of Maine, and many of his neighbors were lobstermen. He was only 8 years old when he got his first lobstering license. To learn the trade, he worked as a stern man for 14 years with a seasoned lobsterman from his town.
To get a lobstering license today in Maine, you need to log 2,000 hours working for another fisherman first. Then you can apply for the license and be placed on a waiting list, which can take years before your name comes up. The state only issues a certain number of licenses to make sure that the lobster population is maintained at healthy levels. "Today, it's a long process that few have the time or patience for. Back in 1987 when I started lobstering as a kid, it was an open fishery and I could simply buy a license for about $120."
Lobstering is one of the few sustainable fisheries left; in 2015, Maine's lobstermen (and women) landed more than 120 million pounds of lobsters, making the fishery a major factor in the state's economy. Many other fisheries have been overfished and either shut down, or become very restricted. While Eben initially started lobstering because he thought it looked like a fun thing to do, he has stayed with it all these years because it is still a good way to earn a living and be your own boss, but it is physically demanding work. Eben fishes year-round, which, in Maine, can be pretty tough going out in a small boat in winter weather. That said, few could compete with the view from his "office" as the sun comes up over the watery horizon.
Trapping Lobsters
Lobster traps—also called lobster pots—are designed to both catch lobsters and allow the smaller ones to get out through "escape vents" while the trap is still on the seafloor. These smaller lobsters can enter, eat the bait, and then exit, but not all do, and the lobsterman measures each one that he takes out of the trap to make sure it is legal size. Lobster traps must also have biodegradable "ghost panels" that will break down over time and allow any lobsters inside to get out, in case the trap is lost or separated from its buoy. For many generations lobster traps were constructed from wood and netting made from knotted twine.
Today, most traps are made with plastic-coated wire. After sniffing the bait, the lobster enters the trap through funnel-shaped openings called "heads" and enters the "kitchen" where the bait is waiting. As the lobster moves within the trap looking for an exit, it is likely to go through another funnel to the "parlor." From there, it waits until the lobsterman hauls the pot to the surface and removes it from the trap. Traps are tethered to the surface with a rope and tied to a buoy. Each lobsterman paints his buoys with his own unique color and pattern to identify the lobster pots that belong to him.
Marine animals consume plastic when they confuse it for food.
Small plastics and floating objects often look like food to aquatic animals and sea birds. When they eat plastic, it often gets stuck in their digestive system, making them feel full and unable to eat proper food.
What can YOU do?
Learn more at Getting Rid of Marine Debris