"I've got the keys to the submarine!"
When Cathy Green took over as executive director of the Wisconsin Maritime Museum a few years ago, she joked about assuming responsibility for USS Cobia, the World War II-era submarine that is the centerpiece of her museum's collections. But it wasn't really a joke because, in a manner of speaking, it's true. While she may not have seen stewardship of a 312-foot submarine in her career path, the broad range of professional and personal experiences she has had makes her a perfect fit for the job of running a maritime museum.
Her interest in maritime pursuits started when she was a kid. Growing up in Southern Indiana along the Ohio River, Cathy didn't give much thought to the ships and barges going up and down the river—they were just a regular part of the scenery. But by their presence she grew to understand how important shipping is to communities, how it enables their growth and supplies them with food, fuel, and life's necessities.
Cathy's parents often took her and her sister to historic sites and museums when she was young, and she remembers being fascinated by the objects linked to the past. It was one thing to learn about history in school, and quite another to stand on the exact site where something really important happened and to see the actual clothing, tools, belongings, and homes of the people who were there.
When she started going to Girl Scout camp on Kentucky Lake, boating became a big part of her summers and would play a major role in shaping her life. As a teenager, Cathy moved up the ladder at camp. She became a counselor, a sailing instructor, and eventually the camp's waterfront director. In college, she focused on fine art and museum studies in the classroom and joined the university's sailing team. She graduated with a degree in history (and a minor in fine arts) and landed a job at a maritime museum in Bermuda; from that experience she decided to make maritime history and preservation her career. She went back to school, earning a master's degree in maritime history and archaeology, as well as advanced certifications in scientific diving. Since then, she has had extensive experience as a maritime archaeologist, an educator (both on land and at sea aboard sailing ships), and a museum professional.
On a typical day, you might find Cathy in the museum's galleries, in the artifact storage and conservation areas, giving tours of the submarine, or being interviewed on a local radio station. Especially in a medium-sized museum, the director needs to be ready for everything. She is simultaneously the boss, a strategic planner, a curator, a public speaker, a tour guide, and a facilities manager. When necessary, she does whatever else needs doing to keep the museum running smoothly.
More than anything else, Cathy is an inspired storyteller, who shares the real-life stories of ships and boats, and the people who built and sailed them. "I hope to inspire people to appreciate, learn about, and protect our maritime heritage and the Great Lakes." She hopes you will visit her museum some time. If you do, be sure to tell them that you read about her in Sea History magazine and ask if she is available. She'd love to meet you.
Wisconsin Maritime Museum
75 Maritime Drive, Manitowoc, WI
wisconsinmaritime.org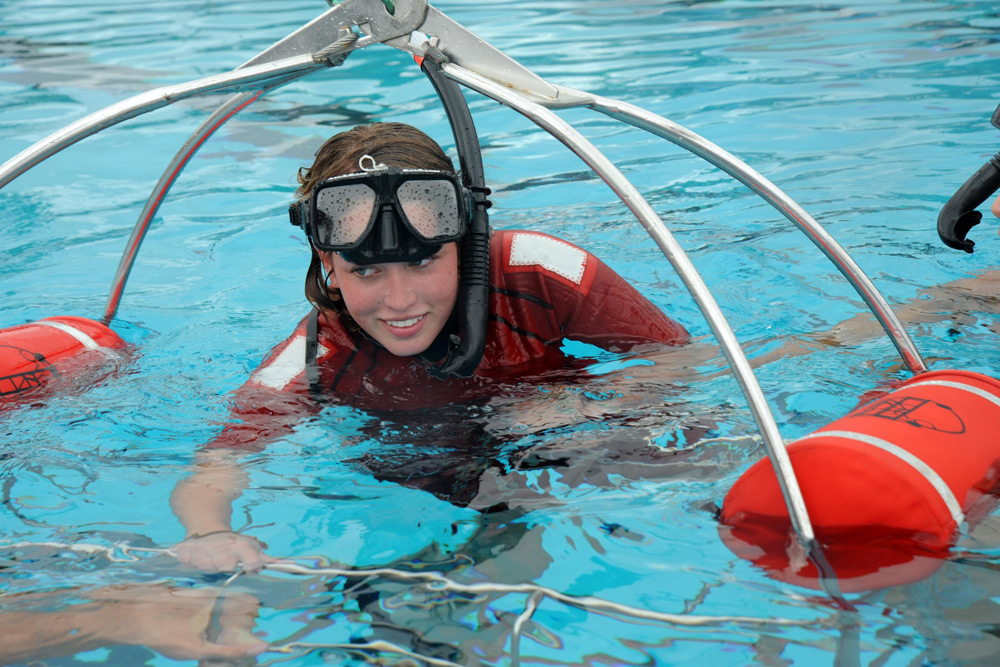 Today, nearly 42,000 men and women serve on active duty in the US Coast Guard.
The United States Coast Guard is the nation's oldest maritime service and is really a combination of five different agencies that were brought together to make them run more efficiently—the Revenue Cutter Service, the Lighthouse Service, the Life-Saving Service, the Bureau of Navigation, and the Steamboat Inspection Service.
What do members of the Coast Guard do every day?