Joe Sienkiewicz is the branch chief for the NOAA Ocean Prediction Center, which is part of the National Weather Service. The Ocean Prediction Center provides mariners with warnings and forecasts for the western North Atlantic and central and eastern Pacific Oceans. The center operates 24 hours a day, 7 days a week, because weather doesn't take weekends off.
Joe has been with the National Weather Service for more than 30 years, and in that time he has become an expert in a variety of aspects of ocean weather. In his office he has a large array of weather observing and prediction tools at his fingertips. Surrounding his desk are six monitors that allow him to view satellite imagery from four geostationary satellites that cover the oceans from Asia to Europe. He can also see what's going on in the high latitudes by accessing polar-orbiting satellite imagery. Weather is constantly changing and doesn't always follow the rules, so Joe uses multiple resources to generate accurate weather forecasts, including numerical model forecasts—NOAA's Global Forecast System, for example—plus others from around the globe, and wave and ocean models such as those provided by the US Navy and international partners.
Mariners have come to rely on the Ocean Prediction Center for timely and accurate forecasts and information that help keep them safe at sea. What many of them don't know is that Joe has firsthand experience being on their end of the marine radio or shipboard computer. Before he went to graduate school to study atmospheric science, Joe was a professional mariner.
He grew up in Boston and learned how to sail with the Community Boating program on the Charles River, and one of his first jobs was running the waterfront as the dockmaster at the sailing club. Although he admits he had a "bumpy" start in college, he eventually found a better fit for himself at the State University of New York Maritime College, one of the seven maritime academies in the country that prepare students for careers as professional mariners and other maritime-related professions. At SUNY Maritime, Joe majored in meteorology and oceanography and enrolled in the US Coast Guard Deck Officer License Program. At graduation, he received a Bachelor of Science degree and also qualified for his USCG Third Mate Oceans License.
"Science and the potential to work at sea was a very good mix for me. After graduation I worked for five years as mate and captain on tugboats based out of New York. There is no better thrill than landing a tug alongside an inbound ship." Joe then went back to school to further his studies in meteorology and oceanography. After graduation, he succeeded in landing a job with the National Weather Service, where he has been ever since.
In his profession, you need a minimum of a bachelor's degree in meteorology, and many of Joe's colleagues have advanced degrees. That's a lot of time in school, but Joe points out that most people don't have a direct path in what they end up doing as a career. He also emphasizes that the experience you can get by working in lower-level or even "grunt" jobs can be invaluable.
"Some of my jobs, especially as a dockmaster at a large public sailing club as a teenager, taught me so much about self-reliance and confidence. I learned that it is okay to work with your hands, how to always respect others, and how to push myself. Without the dockmaster experience and boat handling skills I learned when I was younger, I would have really struggled as a mate on tugs. Working on boats requires you to make decisions on the fly and then not be afraid to change that decision when new information presents itself."
He takes a lot of pride in his work and never forgets that others are relying on him to do his job well, not just for a comfortable passage at sea, but for their safety and that of their ships, cargo, and passengers. "Our mission to forecast and warn mariners of existing and upcoming hazardous weather is very cool, but it's challenging. The weather over the oceans is always changing, but that also makes the job of providing warnings and forecasts very rewarding. We always have in mind that we are serving those at sea."
The first man-made satellite was sent into space in 1957, and since then thousands more have been launched to observe the earth, collect data, and perform all sorts of functions. Earth-orbiting satellites range from weather and communications satellites to deep space telescopes and Global Positioning System (GPS) satellites. Currently, there are more than 50 countries involved in building, launching, and operating satellites. NOAA operates many of its own, but the earth is a pretty big place, so NOAA partners with other countries to gather and share data from satellites in orbits positioned all around the world. This graphic shows the current space-based portion of the World Meteorological Organization's Global Observing System, plus additional space, weather, and environmental satellites. Learn more about NOAA's Ocean Prediction Center at www.ocean.weather.gov. You can see NOAA satellite imagery of any place in the world in real-time at www.nesdis.noaa.gov/content/imagery-and-data.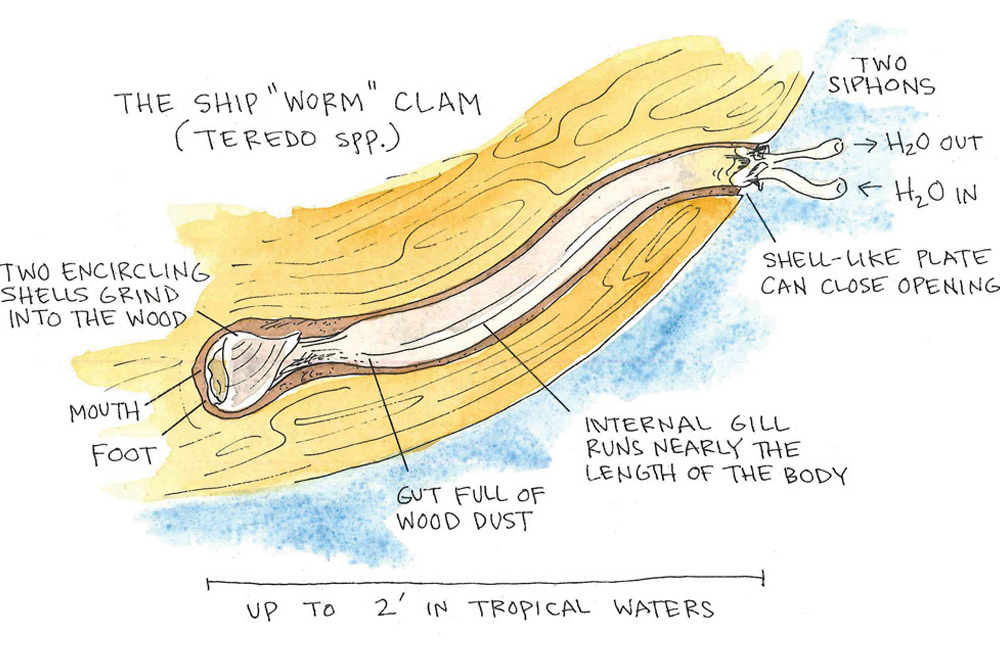 Damage to wood by the shipworm clam was often extensive enough to sink a ship!
As a tiny larva floating in the ocean, the clam lands on the hull or piling of a ship and immediately begins to grind into the surface of the wood with its shells.
How did Christopher Columbus and other mariners protect their ships from the shipworm?