US Navy photo by Senior Chief Musician Adam Grimm (photograph above).
Ever since he was in high school, David Smith wanted to be a professional trumpet player. After taking private lessons from a musician in the Navy Band, he became intent on playing for the US Navy. David went to Northwestern High School in Hyattsville, Maryland, just outside of Washington, DC, and credits his high school band director, who often took his students to hear performances by premiere military bands in the capital, with inspiring him to pursue this career path as a musician.
Playing in the Navy Band is a full-time job; its musicians are active-duty members of the US Navy, and their primary duty is performing as a musician, so their experiences are much different than most naval sailors and officers. They will spend most of their naval careers based out of Washington, and, while they travel often for concerts, they will not be deployed to other bases or seagoing ships. The Navy Band and its smaller ensembles play on behalf of the US Navy for special events such as funerals at Arlington National Cemetery, ceremonies and events hosted by the Department of Defense, and for audiences at the White House. They also give lots of free public concerts throughout the year and travel to schools, conducting clinics and performing for students to entertain and inspire the next generation of musicians.
There are more than 170 musicians serving in the Navy Band, which is further broken down into various performing groups and smaller specialty ensembles. David plays trumpet with the Cruisers, a group of about eight musicians that performs a range of music, including jazz standards, rhythm & blues, classic rock, adult contemporary, and pop, plus some original material.
When David is not performing, his regular workday consists of a two-hour rehearsal, followed by other non-musical duties that each band member does to help keep the unit, or command, functioning and efficient. Some band members take this time to work in the public affairs office or on the diversity inclusion team, in unit operations, uniform locker, command fitness, or career counseling, just to name a few.
Most of the band members were already fully trained musicians when they applied to join the Navy Band, but a college degree is not required. Candidates are offered positions based solely on their auditions and interviews, as long as they meet the other requirements for a position in the US Navy. David majored in music at Morgan State University in Baltimore, MD, and earned a Master of Music from Penn State in trumpet performance. While these programs provided him with excellent musical training and experience, as a serious and ambitious young trumpeter, he has also taken private lessons.
David's choice for military service is a unique route a trumpet player might take to the main stage, and for David and his bandmates, it has a lot of benefits. The Cruisers perform in a wide variety of venues, traveling and meeting people. In addition, the Navy provides stability with a regular income, health insurance, and a pension. Navy Band musicians are an elite group whose talent and experience represent artistic excellence.  In addition to the satisfaction they get out of playing music for a career, Navy Band musicians take pride in their service to the country, serving as the Navy's musical ambassadors.
I believe it's important to emulate the path of those who are working in the career you desire to pursue. During my music studies in school, I received full scholarships and a teaching assistantship once I reached the graduate level. I believe that to achieve your dreams, you have to break your goals down into practical, palatable steps. Write down your vision and make it plain, and as you follow these steps, you will begin to see a progression toward your dreams—whatever they may be. You do not have to pursue your dreams alone. Find a mentor who will help you navigate that path and your dream will become a reality! —David Smith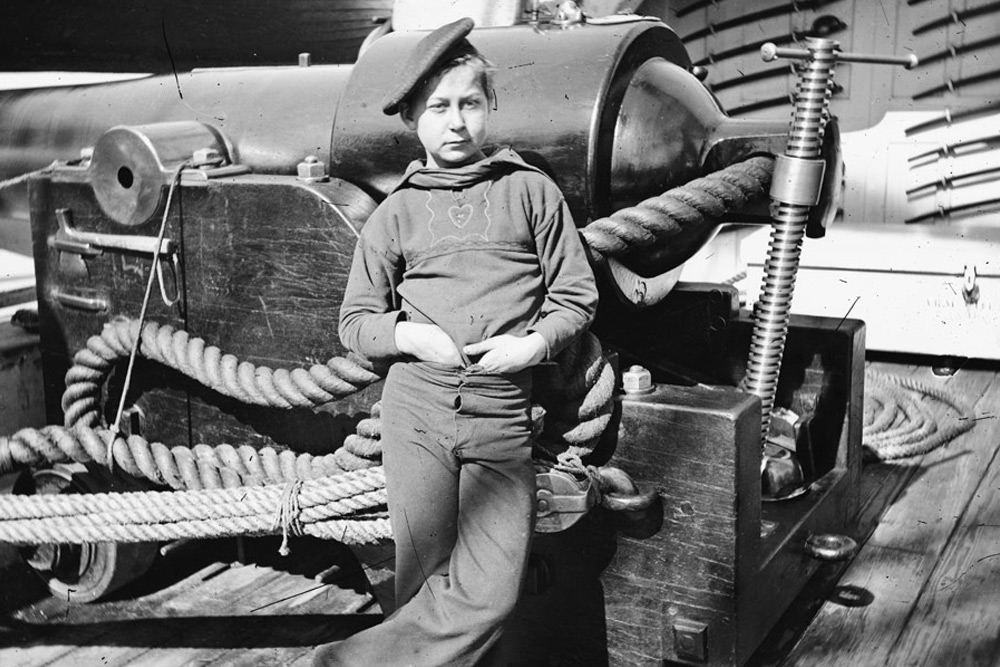 The Age of Sail was said to be the domain of "wooden ships and iron men," but sailing ships also had boys on their official crew lists.
Today, you have to be 14 years old before you can get a job in most states in the US, but in the Age of Sail both merchant ships and navy vessels signed on boys as young as seven years old as regular members of the crew.
What were these kids doing on board sailing ships?