In the 21st century, you don't find a lot of kids dreaming of becoming shipwrights when they grow up. A couple of centuries ago, coastal towns would have had a whole bunch of kids aspiring to do so, but that was because it was a common occupation in the days when wooden boats provided livelihoods for much of the country. Fishing vessels, cargo ships, passenger boats, and even warships were built in shipyards large and small, in just about every coastal community. Kids' uncles, fathers, and older brothers worked as carpenters, sailmakers, riggers, and blockmakers, and as the mariners who went to sea in their work upon the water. In 2017, it isn't necessarily a popular occupation, but it is still a viable career for individuals who develop the skills in carpentry, boatbuilding, and repair.
Krityavijay Singh—Krit for short—is a shipwright at Mystic Seaport Museum. He specializes in the construction and restoration of wooden yachts and ships. At Mystic, he works on all the museum ships and boats that need regular maintenance and repairs, but he also works on ships from other places that come to the shipyard for repairs big and small. Right now, Krit's main job at Mystic Seaport is working with a crew of shipwrights and volunteers on a major restoration of the Mayflower II, from Plymouth, Massachusetts. 
So… how does a kid from Connecticut end up choosing a career that is almost unheard of in the age of smartphones and cybertechnology?
"Boatbuilding as a career path is something I sort of fell into. I always enjoyed building and creating things with my hands. While I realized that I drew a lot satisfaction from these sorts of tasks, I was a total novice when it came to woodworking skills. What I lacked in experience, I made up for with eagerness." Krit was at a point in his life when he had to choose what path to take for a career. "When the time came to look for a school that would further my hands-on skills, I was torn between fine furniture making and boatbuilding programs. I ultimately chose boats because I knew less about them!" Krit rationalized that because boatbuilding required mastering working with curved surfaces, it would be more difficult…and that's what drew him in. "I was convinced that once I had the know-how to make complex things out of wood, designing my own furniture would be easy."
Krit applied and was accepted into the two-year Boatbuilding and Restoration Program at the International Yacht Restoration School (IYRS) in Newport, Rhode Island. As a student, he built two boats from start to finish, a 22-foot Hinckley roustabout and a small Beetlecat sailboat. In the process, Krit was trained in all aspects of boat construction, from drafting to varnishing and finishing details—and everything in between.
His job at the shipyard at Mystic Seaport is a perfect match for Krit's interests and newly learned skills. "The most unique aspect of our work at the shipyard is that we take pieces from tree to boat. Nothing is pre-milled or fabricated. We start with a tree trunk and do all the milling right here at the museum shipyard. My skills have gone far beyond basic ship's carpentry. One day, I'm fitting a timber inside a big wooden ship, the next I am operating the sawmill outdoors, and the day after that we are on to something else. There is never a dull moment here."
(To learn more about IYRS, visit their website at www.iyrs.edu. You can follow the restoration of the Mayflower II and other vessels in the shipyard at Mystic Seaport at www.mysticseaport.org/shipyard.)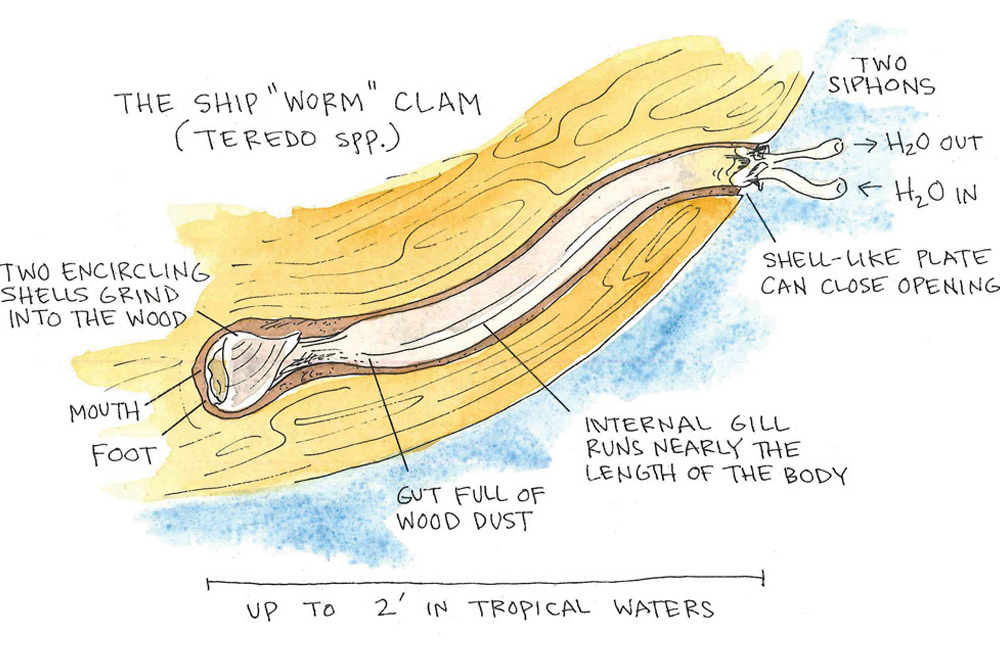 Damage to wood by the shipworm clam was often extensive enough to sink a ship!
As a tiny larva floating in the ocean, the clam lands on the hull or piling of a ship and immediately begins to grind into the surface of the wood with its shells.
How did Christopher Columbus and other mariners protect their ships from the shipworm?