Crystalynn Kneen is the communications director for the Master Chief Petty Officer of the United States Coast Guard. That's quite a mouthful when someone asks you what your job title is, so let's break it down: Crystalynn serves in the Coast Guard as a public affairs specialist, and in her current position, she serves as the communications director for a high-ranking military official. The Master Chief Petty Officer (MCPOCG) is the senior enlisted member of the Coast Guard and serves as the principal advisor to the USCG Commandant on all enlisted personnel matters. As part of her job as the MCPOCG communications director, Crystalynn writes news releases, creates talking points for the MCPOCG, and shoots still photography and video to share with news outlets and update social media pages.
Crystalynn's typical day varies, depending on whether she is working out of her office in Washington, DC, or traveling to different Coast Guard units across the country. On a typical day in the office, she monitors and updates the MCPOCG's social media platforms, and scans through the Coast Guard news feed to see what might pertain to the MCPOCG's duties. If the Master Chief Petty Officer has an interview, podcast, or presentation coming up, she will work on materials for those events.
If the Master Chief Petty Officer is traveling to Coast Guard units to meet with personnel or participate in an event, Crystalynn accompanies him and documents the visit to share through press releases for both the Coast Guard community and for the public at large, and through Coast Guard social media.
Crystalynn joined the Coast Guard specifically to pursue this career, but she took a circuitous route to get where she is today. She grew up far from the coast in Colorado with dreams of becoming a reporter for the Rocky Mountain News, a daily newspaper out of Denver. Out of high school, however, she enlisted in the US Navy, and it wasn't until she had finished her enlistment and returned home that she discovered that she could combine her dreams of working in the news media with military service. While she had been away, her younger brother and sister had joined the Coast Guard, and it was her sister's job in the Public Affairs Office that got her thinking about it.
"I loved the military and I loved writing, so I thought being a public affairs specialist in the Coast Guard would be the perfect career for me." And they train you. She still had to go to boot camp, like anyone else who enlists, but from there she was sent to the Coast Guard Public Affairs Apprentice School at the Defense Information School in Fort Meade, Maryland: "There, I learned the basics in newswriting, feature writing, photography, media relations, and military public affairs. I also took a videography course from the Defense Information School. After a few years, I was accepted into the Coast Guard Advanced Education Program, through which I attended Washington State University and received a bachelor's degree in Strategic Communications."
Public affairs specialists get to see and document all that the Coast Guard does, from search-and-rescue to law enforcement to administration roles: "We tell the Coast Guard's story!"
(Visit gocoastguard.com to learn more about a career with the Coast Guard in the public affairs office, as well as all the other kinds of jobs available to new recruits.)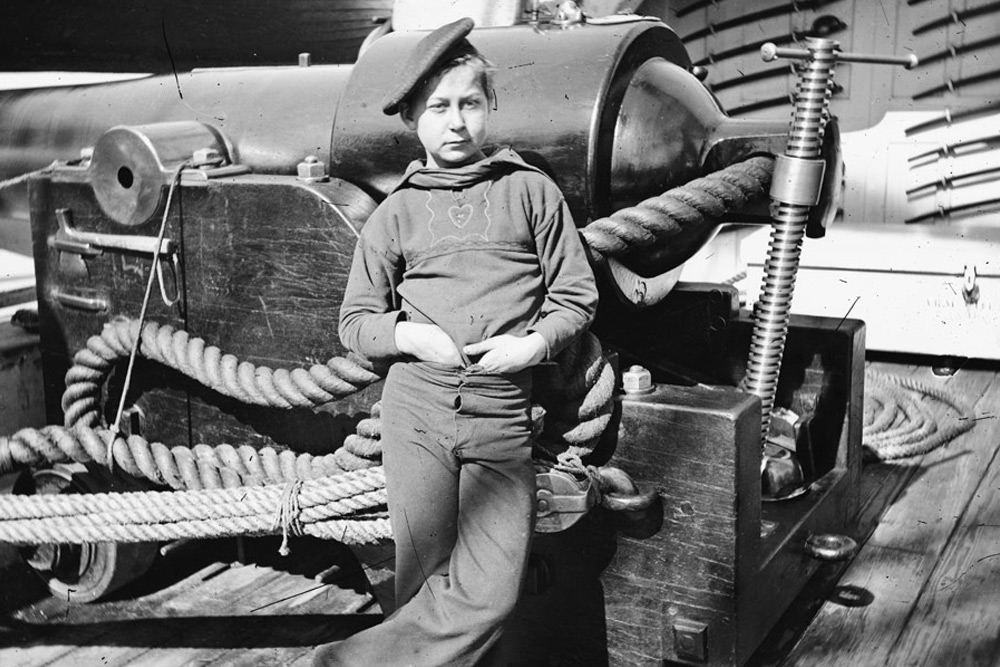 The Age of Sail was said to be the domain of "wooden ships and iron men," but sailing ships also had boys on their official crew lists.
Today, you have to be 14 years old before you can get a job in most states in the US, but in the Age of Sail both merchant ships and navy vessels signed on boys as young as seven years old as regular members of the crew.
What were these kids doing on board sailing ships?