Most people well into their careers will tell you that the path that got them there was not exactly a straight line. So it was that I was driving in my car last year, listening to the radio, when I heard the announcement that the Massachusetts Teacher of the Year was Cara Pekarcik. The name sounded familiar; Cara had been a student of mine years ago when I used to teach with a college program called SEAmester before I became editor of Sea History. But teacher of the year? I was certain I remembered that when Cara graduated, she got a job as a whale biologist. I got in touch with her and discovered that she is, in fact, both!
"Sea History for Kids" has profiled many people in the marine or maritime field: maritime historians and archaeologists, oceanographers and marine geologists, marine photographers and videographers, a maritime attorney, a marine insurance agent, and even an ocean yacht racer. Nearly all of the people whose stories we have shared got to their chosen field after trying out other jobs, sometimes closely related, and sometimes not at all. In this issue, Cara Pekarcik, the 2018 Massachusetts Teacher of the Year, shares with us her two professions and shows how, in her case, her former career still influences her current job.  — Deirdre O'Regan
Cara : "For as long as I can remember, I wanted to be a whale biologist. The ocean and its inhabitants have always fascinated me, from the bioluminescent capabilities of deep-sea creatures, to the tremendous diving capabilities of marine mammals, to the symbiotic relationships of so many diverse groups of organisms. I have never come across a marine science topic that I did not like."
Growing up near Pittsburgh, Pennsylvania, Cara and her father watched of lot of nature shows on TV. She read everything she could about the ocean in magazines and books from the library. It didn't matter to her that she did not live anywhere near an ocean, she set out to learn about local rivers and spent time along Lake Erie on family outings. Her family took a few vacations to Ocean City, Maryland, where she got her first look at the ocean.
Cara went to a college that specialized in marine science studies, and, after graduation with a degree in Interdisciplinary Psychobiology, she got a job as a whale biologist for the Whale Center of New England in Gloucester, Massachusetts. There, she participated in long-term behavioral and photo-identification studies of endangered whales and served as an education specialist aboard whale watch excursion vessels. In 2006, Cara left Gloucester and took a job teaching high school science in North Quincy, Massachusetts, a job she still holds today.
Whale Biologist
During most of her time with the Whale Center, Cara served as the humpback whale catalog curator and database manager. In New England, most of the fieldwork, which involved going out on whale watch boats and research vessels, was seasonal, conducted in late spring, summer, and fall. Back in the office, Cara documented the team's work in photo-identification of individual whales and performed other tasks for the organization. She also helped recruit interns.
"When I was starting out, I paid my dues putting in a lot of time as an unpaid intern. It was an invaluable form of hands-on training that helped me understand more about the field I was pursuing and helped confirm that whale behavior and biology would hold my interest beyond college." Internships can be hard work, and with no pay it is definitely a commitment and sacrifice. The networking—getting to meet and work with other people in the same field—and the job experience that came with the internship, Cara says, are essential building blocks for a marine science career.
Now that she has made the move from boat to classroom, Cara still goes back to sea and works with marine scientists assisting on research projects in the summers and as part of her professional development as an educator. She is equally comfortable working in a lab, on the deck of a ship, or in a classroom. With more than a dozen years of teaching under her belt, her experience working with students has benefited the scientists she works with by effectively sharing their work with her students and others in the classroom, online, and in presentations.
Marine Science Teacher
"To be honest, it wasn't until about three years into my job as an educator that I started to identify myself as a science teacher rather than as a whale biologist, although, for me, these two roles are not mutually exclusive. I teach classes in zoology, biology, life/physical science, and marine science. My marine science class is one of my favorites, naturally, because I can use my own experience and personal connections to supplement class work with my students. I invite former colleagues into my classroom (in person or virtually) to introduce my students to scientists currently working in the field and learn about what they are researching. I also enjoy that it includes examining real-world examples that change from year to year. At the beginning of the school year in 2017, for example, Hurricane Harvey had just devastated areas along the Gulf of Mexico, and Hurricane Irma was barreling down on the Caribbean. What better time to talk about hurricane formation and the Coriolis effect?
While I don't expect most of my students to pursue marine science studies in college, many will grow up and be put in positions where their decisions will directly affect our planet. I hope that I have provided them with the tools to make informed, positive choices for all of us."
---
As a licensed teacher in Massachusetts, Cara is required to participate in professional development programs. A few years ago, this requirement landed her on an Antarctic research vessel to study photosynthetic algae (diatoms) in the Southern Ocean and near the Western Antarctic Peninsula. "I was there to learn about the science and then make it accessible to my students and to the public at large. Through daily online journals, a live-stream broadcast from Antarctica, and online Q & A sessions, my students could join me in real time and learn right along with me."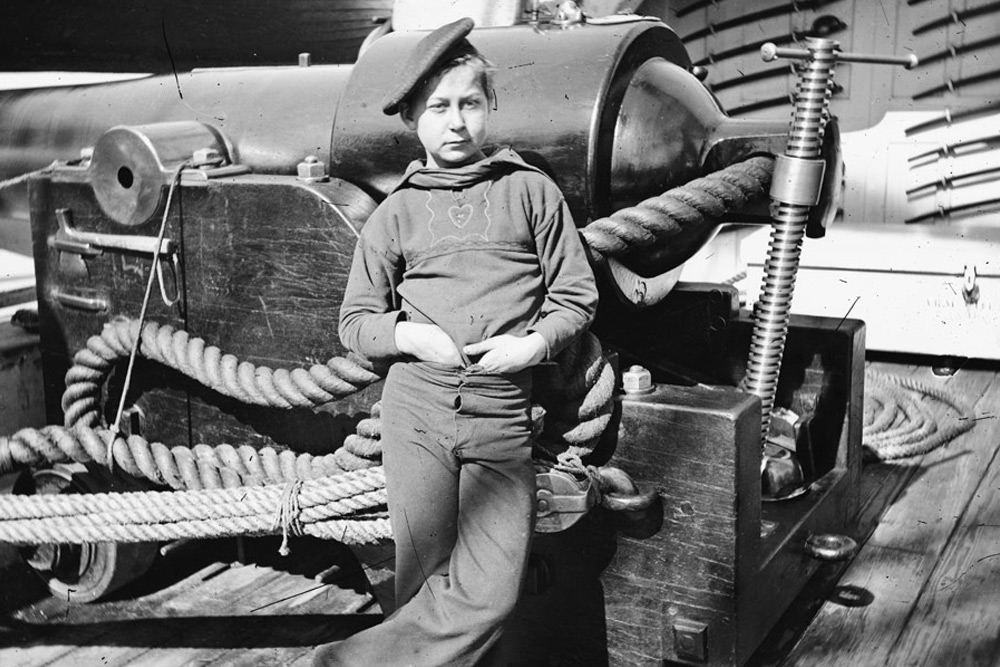 The Age of Sail was said to be the domain of "wooden ships and iron men," but sailing ships also had boys on their official crew lists.
Today, you have to be 14 years old before you can get a job in most states in the US, but in the Age of Sail both merchant ships and navy vessels signed on boys as young as seven years old as regular members of the crew.
What were these kids doing on board sailing ships?