Marine life, ship and boats, seascapes, mariners­—you name it. If it has anything to do with the water, it counts as a "marine art," and your artwork of these subjects could be among the next winning entries in the Young Marine Artists Search (YMAS), sponsored by the American Society of Marine Artists (ASMA).
How young is "young?" Artists ages 16 to 23 are eligible to submit entries for the 2017 YMAS competition, and you have the rest of the school year to complete your work of art and get it submitted: deadline for entries is 15 June 2017. ASMA jurors will review and select the winning entries and notify the winners on 31 July; the awards will be announced at the 2017 National Marine Art Conference in Connecticut next fall. Ribbons, certificates, and scholarship money will be awarded to winning artists, and it puts your art work in front of today's top marine artists, as well.
All entries must be original, created from personal photos or imagination. Digital art created on a computer is not eligible for this competition. Paintings, drawings, sculptures, and ceramics of any maritime subject will be considered.
For examples of the range of marine art subjects, you can view works by ASMA fellows and signature artists online at www.americansocietyofmarineartists.com.
Featured photo above, Jieun Suh, winner of both First Place–Painting and Best in Show, displays her winning entry, Down Under (18 x 24 inches, collage, watercolor, oil pastel on watercolor board).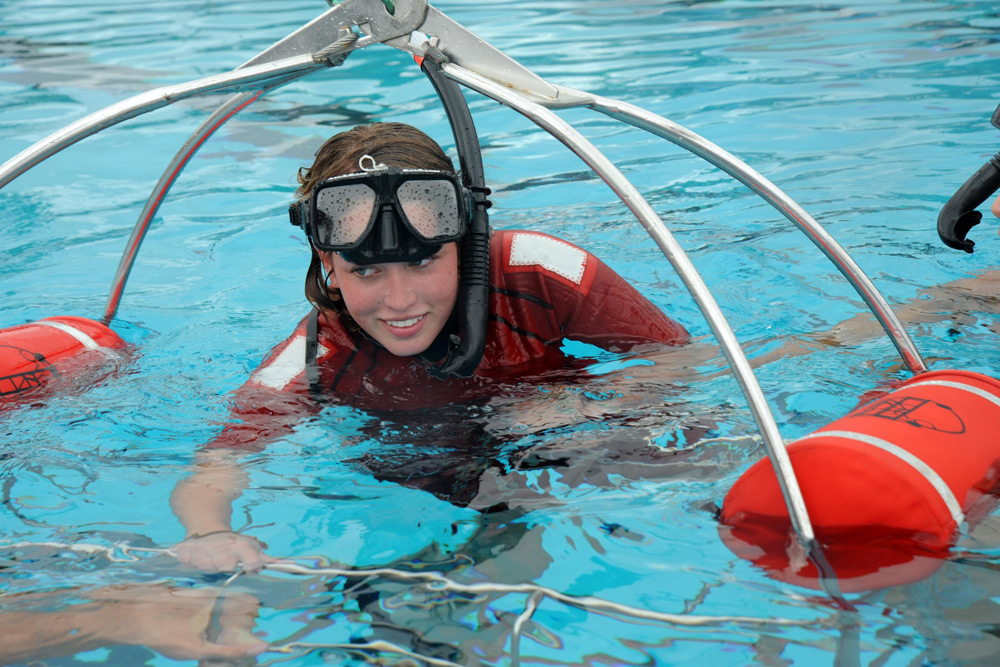 Today, nearly 42,000 men and women serve on active duty in the US Coast Guard.
The United States Coast Guard is the nation's oldest maritime service and is really a combination of five different agencies that were brought together to make them run more efficiently—the Revenue Cutter Service, the Lighthouse Service, the Life-Saving Service, the Bureau of Navigation, and the Steamboat Inspection Service.
What do members of the Coast Guard do every day?