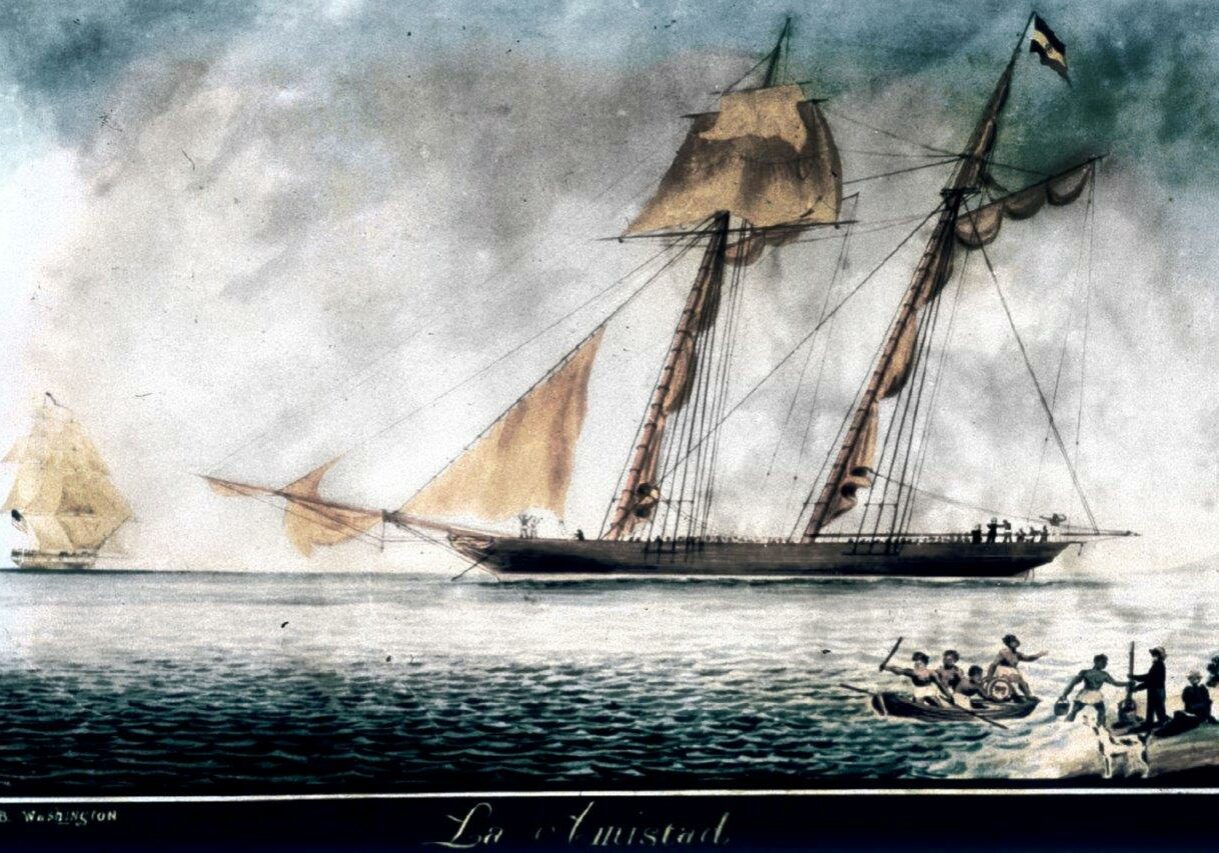 Seminar Series: Discovering Amistad with Jason Hine – 7 November 2020
Register Here for the 7 November 2020 Seminar Series Live Zoom Event
Welcome & Lecture at 11:00 AM ET, Q&A to Follow
Pre-registration is required and greatly appreciated. Admission is free and limited to the first 100 registrants.
Join us as Discovering Amistad Senior Educator Jason Hine recounts the history of the 1839 Amistad uprising and subsequent landmark Supreme Court decision that began when Sengbe Pieh, an enslaved Mende warrior from West Africa, found a nail onboard the cargo vessel and used it to break free from the chains that bound him below in the hold.  Freed from their chains, the Amistad Africans emerged from the hatch and rose up in arms against their captors.  After killing the cook and the captain, they took charge of the ship and navigated it to Long Island, New York, where they encountered the US Navy.  The Amistad Africans would then spend years living in the New Haven, Connecticut jail where they would work their way though the US court system to eventually secure their freedom and sail back to Sierra Leone.
Sharing stories of Amistad Africans and using the past as a framework for addressing present day challenges, Jason Hine explains how the lessons that begin with the Amistad uprising move through the arc of more than 175 years of history, from the Civil War to the Civil Rights Era, and up to the present day.
Discovering Amistad is a nonprofit educational organization in Connecticut that provides full-year educational programming on its schooner Amistad, the state's flagship and a replica of the original.  The organization's mission enables children and adults to get out on the water and discover the story of the Amistad, to ask questions and understand the relevance of the Amistad uprising in today's world, and to collaborate to dismantle systemic racism and achieve greater social justice.  Their programs provide an examination of our history that can empower us all to engage in a much needed dialogue that ultimately serves to bring people together.
Join us for this timely seminar as Jason shares how he has responded to tough questions from students and the public alike—questions such as "why did white people see black people as less than human?" and "are black Americans still dehumanized today?"  What questions do you have?  Let us know when you register below!